It's a trendy, uber cool, private members club I found myself in, this Friday morning, waiting for my most certainly uber cool but somewhat mysterious guest. Library, Leicester Square's exclusive hotel and private members club is quite the distinguish space for a meeting like the one I'm about to have, quite fitting in fact.
My mysterious guest is very distinguished himself though he would never brag nor acknowledge it; he is very much a refined gentleman that enjoys the finer things in life.
Finer things such as bespoke watches, the kind that is quite an expense but worth every penny if you ask a real gent.
d33oh is what you call an Instagram sensation; he has garnered 24k followers by simply posting pictures of exquisite craftsman made watches with the elements and monuments as backdrops, that's quite an achievement considering it is just a hobby of sorts. He is also going to be a guest blogger for Lux Afrique.
The man finally shows and we are introduced, he is every bit as dapper as I expected and he wastes no time discussing his watch collection with me while the crew sets up. Before we sit down for our chat we offer him a mode of disguise (Darth Vader mask) for him to wear for the photo session of the day. We were forewarned about his need to preserve his identity, so we complied. His reaction to the mask was an exuberant one to say the least (Star Wars fan).
It's time to converse with d33oh aka D.O…
D.O Hello, thank you for joining Lux Afrique here at Library.
You've come a long way from an unknown in the luxury watch world to being one of the leading watch influencers out there, why do you think you've succeeded?
I would say; it might be a combination of a couple of things. I have got a collection that is very reflective of my personality. Big sports watches, dress watches that sort of thing. I travel around a lot because of work and I'm always taking watch pictures in different locations. I think people might find that quite interesting as well. And I've also been lucky enough to be reposted quite a number of times by some of the larger luxury and watch accounts (Instagram) I think that's also increased my visibility as well.
It's relatively unusual position to be in, how does one become a watch connoisseur?
I think it's all about the passion I don't know if I'd say I'm a connoisseur I collect watches… right!? A connoisseur is someone that you deem an expert.
Are you not an Expert?
I wouldn't call myself that because you know what!? I have come across quite a number of people who are what I'd call true experts. They can tell you the reference numbers, they can break down the movement of a watch that sort thing so I will give reference numbers, I can talk about the movement. But I'd say I'm more of an avid collector because I've always liked watches liked them since I was a kid my mum was a watch collector she got me into watches, she bought me my first watch which was a Swatch, one of those pop swatch. I had a pop Swatch back in the day. That was a reward for doing well in a particular exam so that's what kind of started it out for me I've just kind of built it up since then.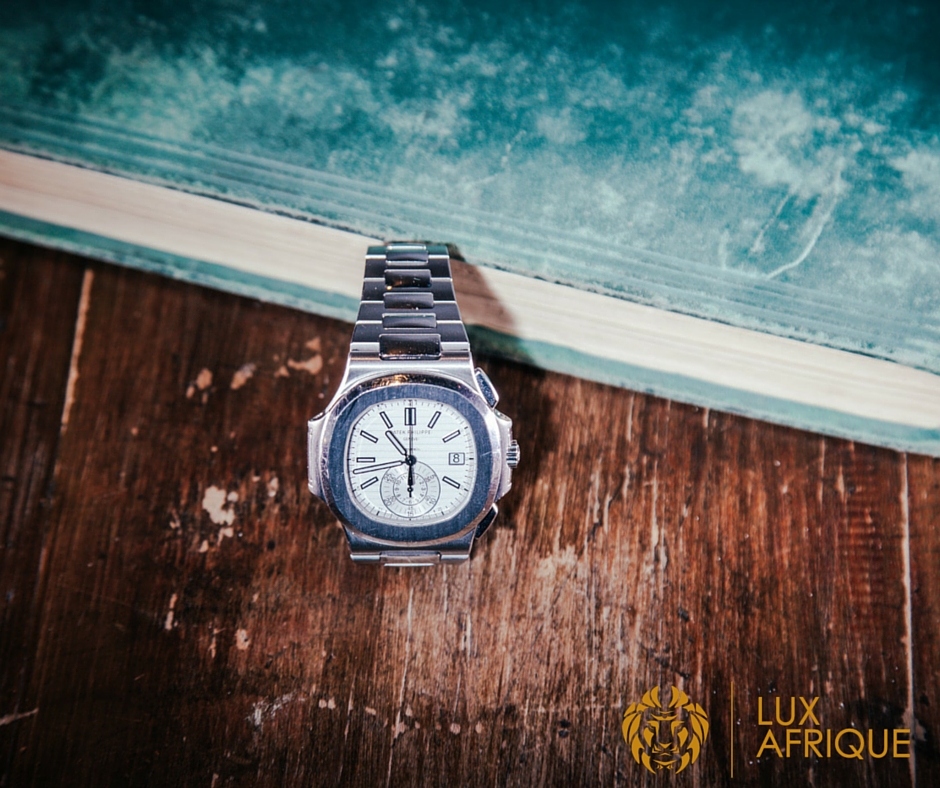 Photo Credit:

Giaconna Cannta
Looking at your Instagram feed you seem to live the life of luxury, flying here, there and everywhere, is your lifestyle funded by your passion for watches?
No, not at all. My lifestyle is funded by my work so what I do for a living is what pays for the watches. I do quite a bit of my travelling for work as well, although I've always liked travelling so I would travel at a drop of a hat even for social reasons. I would say that through Instagram and watches I have made quite a number of new friends who are into watches, and they are in a lot of different cities, that I visit, cities I visited even before Instagram but a commonality of love for watches has been a basis for forming some pretty strong friendships. The travel and everything else is funded by my day job. 
Have watch brands approached you for any deals?
No. I have been introduced to one of the larger brands by a friend of mine who's one of the most prominent jewellers and traders in Nigeria. I've met a couple of founders of independent watch brands like DNF, seniors from Rolex and IWC but is not in an official capacity, it's just I'm with a friend and they are rather in business or friends with people who work in the watch industry. But mine is very much a hobby, it's not something I monetise or seek to monetise to be honest. It's all a passion, a hobby. It's also an expensive one – laughs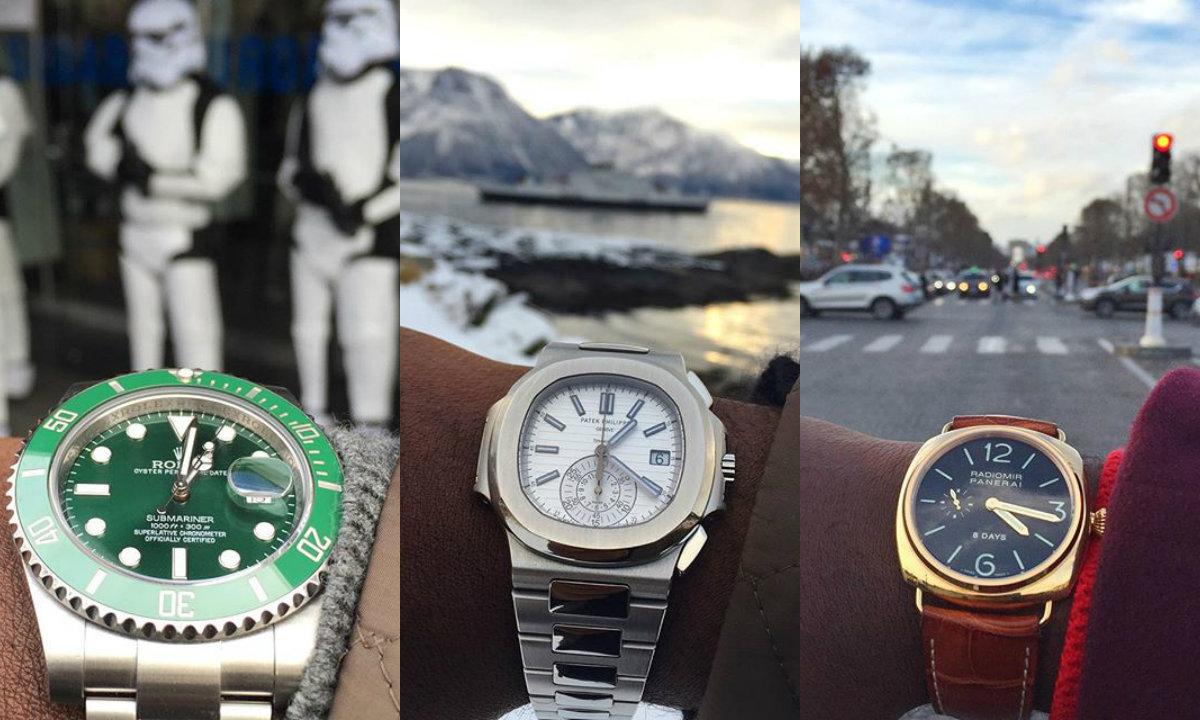 Photo Credit: Instagram @d33oh
You're clearly very stylish, are you a Punk Monsieur?
I'm not sure what a Punk Monsieur is, I do have my style which is very formal when I wear my suits they will all be tailored, and it's what I'd call classic style but I'm also very influenced by hip-hop and R&B. So if you saw me on the weekend I'm always going to be in a t-shirt, bracelets on, I've got quite a good snicker collection. So you'll see me often in jeans or khakis and t-shirts and snickers. Someone that saw me at the weekend would look at me on the weekday, and think of this one of the same people. I've got my individual style, which is quite formal on the weekdays and very, very, very relaxed on the weekends.
So your watches you must have one for each look?
Oh yes, I do, I have the more understated, formal dress watches and I have the larger bigger sports watches, that I'd call my weekend watches or my party watches. I think I have a watch for just about every kind of mood and style. That I would happen to inhabit at that moment in time or that day when I wake up.
Are you excited about guest blogging for Lux Afrique?
I am very much so because I think there needs to be a promotion of African Luxury from a formalised point of view. I'm always about the advancement of both Nigerian and African positives. It's a huge market, it's been served but it could be served better, so for me to be able to contribute to something like this, pushing out the message that there is a large luxury market in Nigeria and Africa. I think a lot of people know that but tapping into it, visualising it and putting it into pros is something that I'm very happy to do. 
I'm also doing this as a hobby; I've looked at what Lux Afrique is seeking to do, aiming to do and it's something that I'm pleased to contribute to because as far as I'm concerned that's my only real contribution. It's towards the publication of the magazine and the website but as well as the bigger picture, promoting African culture and even from the luxury point of view, there's a very African in which luxury is perceived and if I can contribute that's good. I'm very pleased to be associated with Lux Afrique.
Is luxury living on the rise in Africa?
It is, there's always been luxury living in Nigeria, in Africa, if you go to places like Cape Town, where I go to often, Nairobi, Ghana, Marrakesh luxury is all over Africa. How has it being publicised? I would find not always from the positive point of view. Because you know, I'm African, I can say that when people think luxury in Africa it's usually hand in hand with some of the most negative connotations associated with the continent, i.e., corruption and that sort of stuff.
But they are hundreds of millions of hard working people, who are doing their jobs, making legitimate business and spend it on luxury. There needs to be an acknowledgement of that fact, the spending power of legitimately generated wealth is comparable to any other region and would exceed some the international luxury brands larger market. So one would say that it behoves them to be able to look at Africa and find a way to tap into this.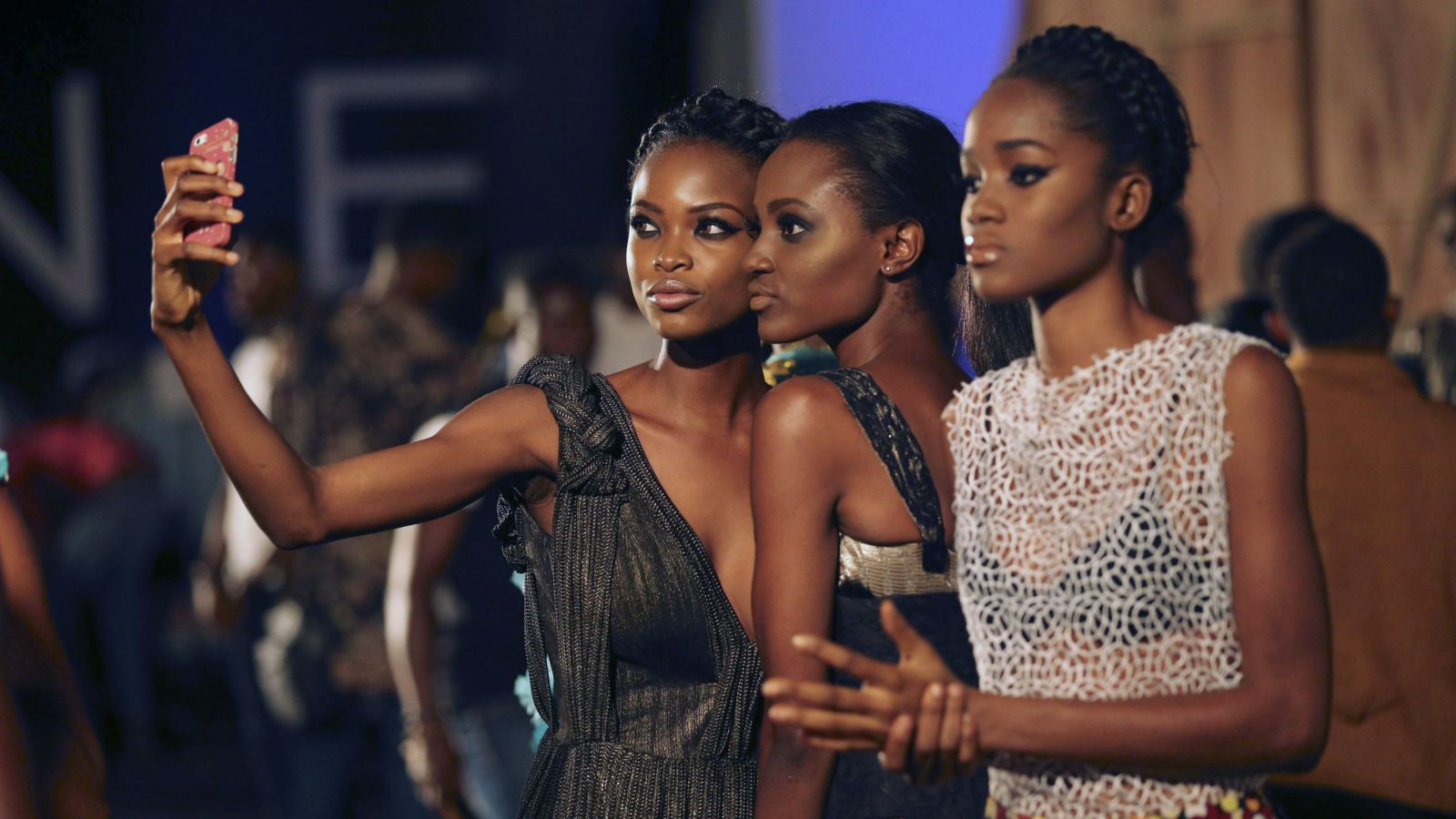 Photo Credit: Reuters/Akintunde Akinleye – Models at Lagos Fashion Week
Do you get to travel around Africa?
I won't say a lot; I travel around a fair bit, I do a bit of West Africa, I go to Ghana quite a bit, Liberia, Cote D'Ivoire, I go to South Africa mainly, so Joburg and Cape Town a lot. I found myself in Nairobi a couple of times during the year, next month I'm going to Marrakesh. So, at least, I covered the four compass points but out of the 54 countries in Africa, I haven't been to half of them yet. When I have a bit more time on my hands, I think it behoves to at least be able to say I've covered most of Africa, so that's the plan long term.
Why do you hide your identity?
Well, because when I started out with Instagram, it was about watches, I like watches. Right!? That's my thing; it's not about attaching this thing to who I am in real life. I just want to be able to enjoy my passion and enjoy with other people. One can do that without necessarily splashing your face all over, there's nothing wrong with that if that's your thing but I'll rather be more private, I rather the focus be on the watches as oppose to the person that owns the watches.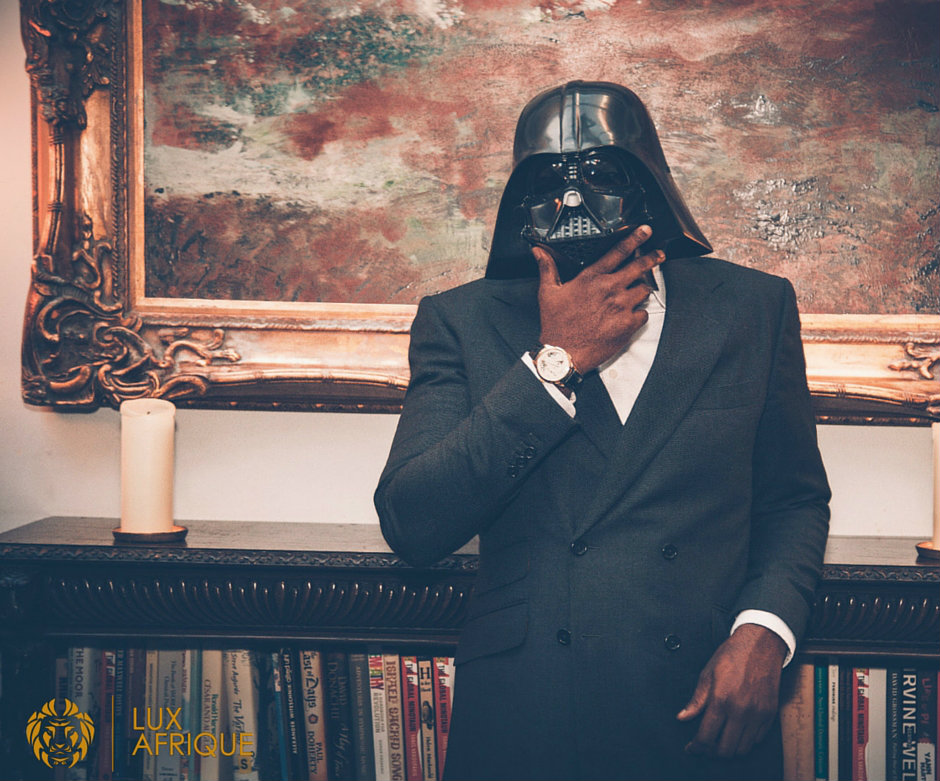 Photo Credit: Giaconna Cannta – Mystery man @d33oh
You brought some watches with you today, are they your favourite? Tell me about them?
The one I'm wearing right now is a Jaeger-LeCoultre or JLC, it's a JLC Duometre, I like it because JLC's one of the final watch houses, one of the most understated ones. But I'll say those who are into watches recognise that it's one of the purest watchmakers. The Dual metric it's if you look at the dial of the watch,  you can see it tells the time, it's got a jumping seconds function, it has the function of dates and a moon face. So it's a fairly complicated watch, for a comparatively reasonable price. The other watch I have with me is the Automa Piguet Michael Schumacher; it's the titanium limited edition. I've always liked Formula 1, I have always admired Michael Schumacher and the watch in itself is a grey matted kind of watch, grey is one of my favourite colours so that sung to me, it's one of my weekend watches.
Tell me about the Tiffany watch you mentioned earlier.
So that's a Patek Philippe 5980, the 5980 also know as a Nautilus, mine is the white dial one and it's got the Tiffany Stamp. So to watch makers when you say a Tiffany stamp dial that is a watch by a maker like Patek Philippe 5980 but it also has an extra line stating Tiffany & Co which means it was retailed by Tiffany & Co and it just makes it a rarer watch to have. I like that because it's steel, it's understated, you can wear it with a suit or you can wear it on the weekend as well. 
The last watch I have with me right now, is a Panerai, one of the original brands that I like. The watch is a Panerai 197; it's rose gold, which some of the purists say it shouldn't be gold but I've got other ones in steel and titanium so I think I have it covered. But the Panerai 197 is a pretty unique watch because it's also a limited edition, about 300 of the watches were made and the special thing about it is that it as an eight-day JLC movement. The maker that I mentioned Jaeger-LeCoultre, they manufacture the movement for that Panerai, so that's is a blend of two watch houses.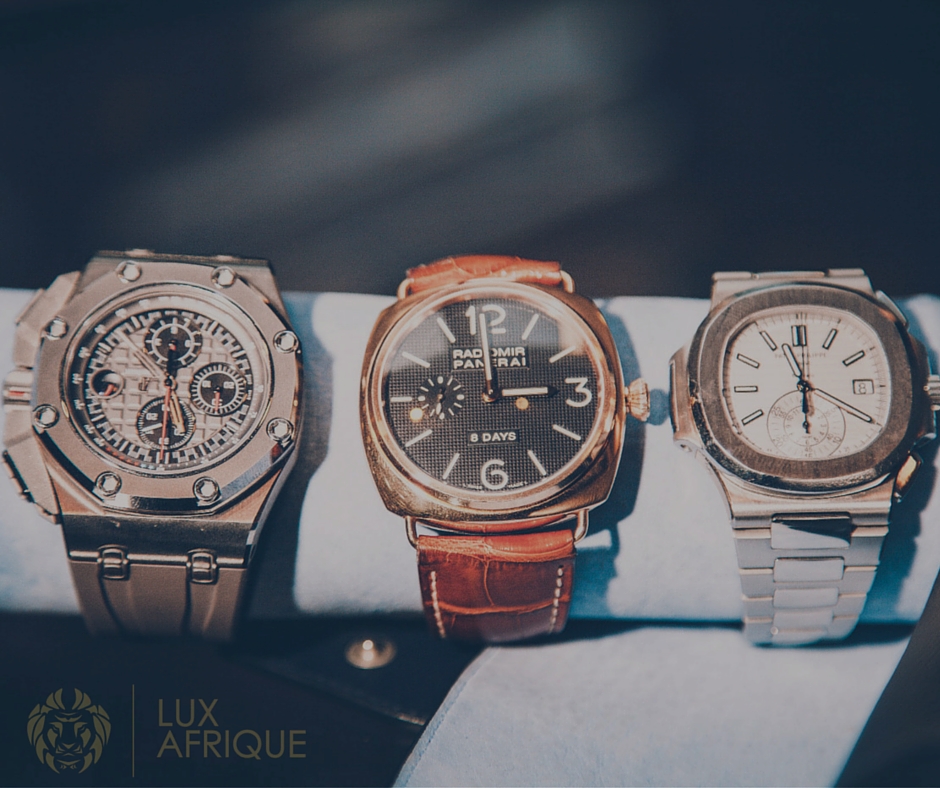 Photo Credit:

Giaconna Cannta
How much is your watch collection worth? Is it insured?
It's a lot; I don't like to go into pricing but it is insured, oh yeah it has to be. Let's just say that I spend way more money that I should on watches.
Would you run into a burning building to rescue your watches?
Yes, I would, I mean assuming that I've already got my kids out- laughs. I would go back in. But let me tell you why, it's not even the monetary value, for some of them even if you had the money you couldn't find them anymore… right?! Like that Tiffany dial one, you couldn't get it, the Panerai you could but you're either going to pay more or not get it at all. So I literally would, I mean I'm not going to do anything silly and risk my life but if I thought I had a sporting chance i would indeed.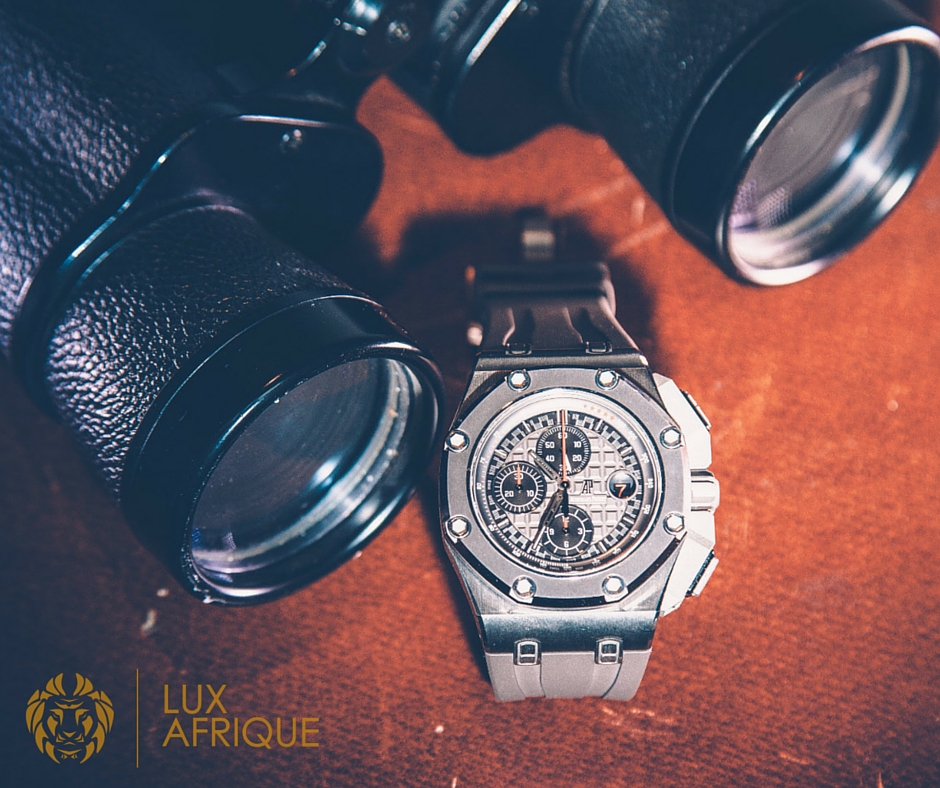 Photo Credit:

Giaconna Cannta
What are your thoughts on Nigerian culture and watches? And do you think there is a market in Nigeria?
Oh, there is, here is the thing that not many people know. Nigerians are low-key some of the largest watch collectors in the world. If not for Instagram you wouldn't have known of me… right?! It's very low key, thankfully I've got a collection but I know loads of people who's collection would blow me out of the water. And they're deliberately very private, they're not on Instagram, they're not on Social Media, they're not interested in anything similar to that, so that's their thing and there are a number of people like that. Nigerians, we work hard and we also like the good life, yes? So the truth of the matter is we've got a huge collecting scene they're just like I said they're low key, very low key.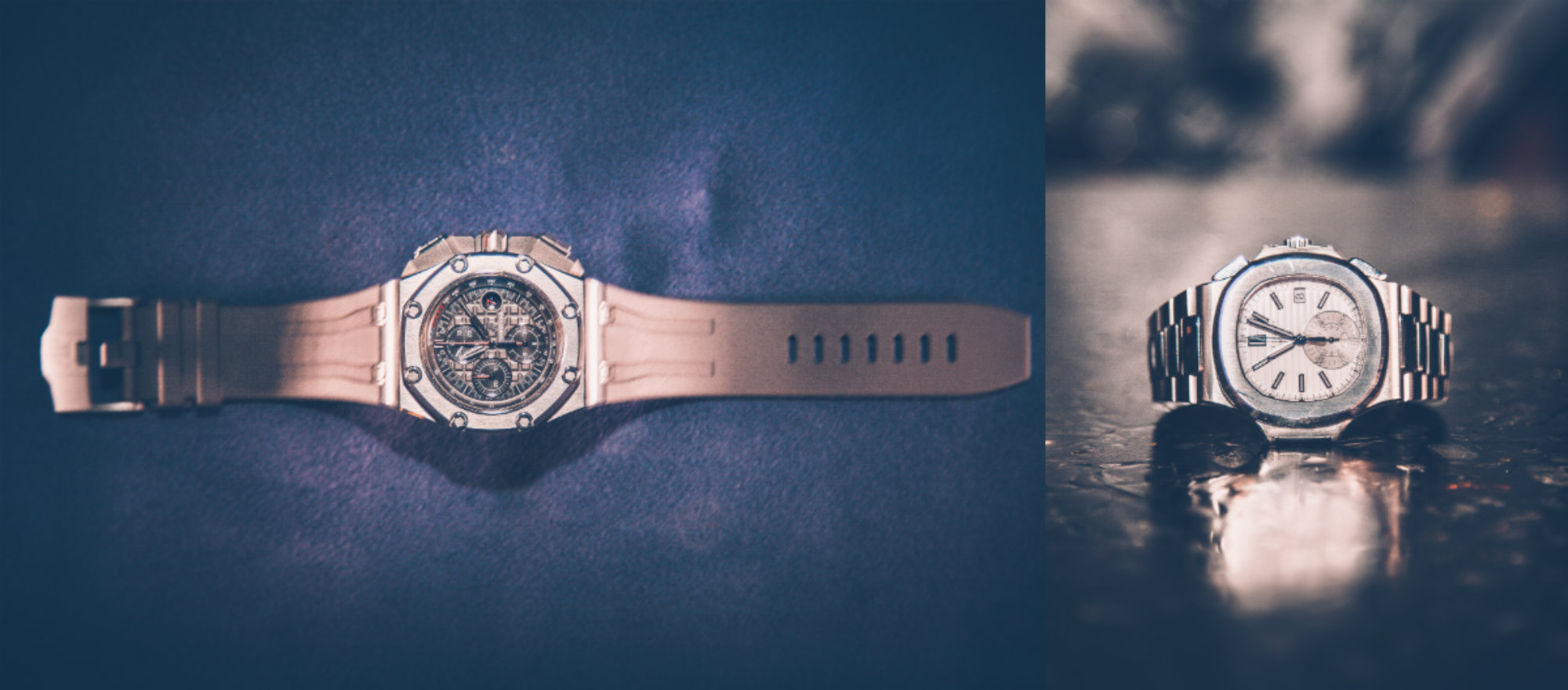 Photo Credit:

Giaconna Cannta
The man is impressive, his passion is catching and his contribution to Lux Afrique is quite significant, so we welcome you to the Lux Afrique team D.O.