The annual Forbes Africa '30 Under 30' list, which was released earlier this week features the continent's "visionaries of change and catalysts for innovation".
From entrepreneurs to YouTubers and fashion stylists, making the coveted list is a pat on the back for these rising stars.
"The #ForbesAfrica30Under30 Class of 2022 care about being visionaries of change and catalysts for innovation. Being on the most-anticipated list on the continent, for these young trailblazers, is not just about commerce and clout but about ensuring they represent their countries well and the diverse, heterogeneous Africa they want to serve," the publication said on Instagram.
The publication explained that the list aims to celebrate personalities who have played a pivotal role in casting the spotlight on issues plaguing Africa.
"The list this year features the best and the brightest, but importantly, the most resilient, who have taken the time to not only shine a light on the issues plaguing Africa's growth in a pandemic era but also work towards shifting the narrative, one tiny, tenacious step at a time."
Featured on the list are the likes of SA YouTuber, Lasizwe Dambuza, SA celebrity fashion stylist Phupho Gumede; Kenyan comedian and author Elsa Majimbo; Nigerian designer and CEO of accessories brand TIMABEE, Fatima Babakura, Senegal's Lehlé Baldé, Editor of Businessday Weekender and several others.
Taking to Twitter, Lasizwe described making the list as a "dream come true".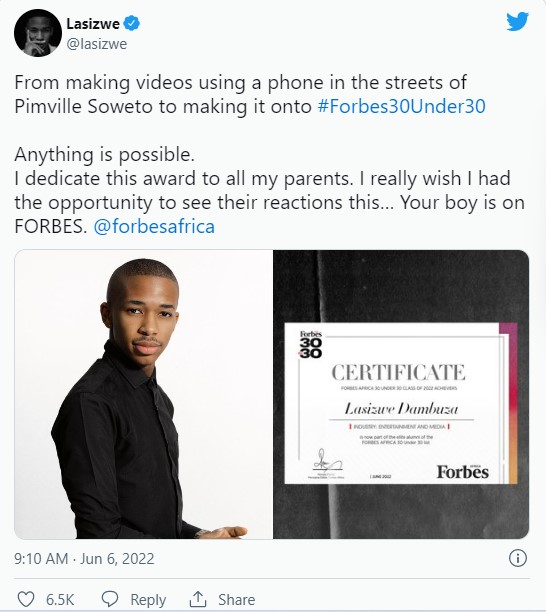 "From making videos using a phone in the streets of Pimville, Soweto in SA, to making it onto #Forbes30Under30…Anything is possible. I dedicate this award to all my parents."
Meet the cover star!
Kenya's Elsais also one of the cover star's on the coveted issue of Forbes Africa.
The Nairobi-born Majimbo, who spent her days playing chess and attending college, was not aiming to be an internet sensation with her laughter-inducing, pared-down videos when the Covid-19 pandemic hit in 2020.
"I made these videos to make myself laugh and then one day my friend told me that I had gone viral," she told Forbes Africa.
Internationally acclaimed, Lion King music producer and composer, Lebohang 'Lebo M' Morake who was part of the adjudication panel said it was an honour to have participated in the project.
"It has been a privilege to have participated in this honourable and important project. The key secret to success in global competitiveness is to be grounded in your authenticity. Embrace your African identity in quality and excellence," he told Forbes Africa.