Lux Afrique Boutique, Africa's exclusive online luxury shopping destination introduces Coinbase as an alternative payment option for cryptocurrencies. Our platform currently supports Bitcoin, Bitcoin Cash, DAI, Ethereum, Litecoin, and USD Coin. Clients from the African continent and around the world can rest assured that Bitcoin has become the popular alternative to credit card payments. Now, they can take control of their crypto safely and securely shop online for all their needs.
Shortly after last year's announcement of Tesla's decision to accept Bitcoin as payment for its electric cars, Lux Afrique Boutique also joined the global blockchain financial system. Accepting Bitcoin, Ethereum and other cryptocurrencies as a form of payment opens doors to the world of shopping, from fashion, jewellery & watches to furniture, vintage champagne and more.
"With Bitcoin and Ethereum on the rise in Africa, we have experienced an increased demand from our clients. They want to transact and pay in cryptocurrency as their online luxury shopping needs have taken on a new experience and is fast becoming their preferred payment option." 

Alexander Amosu, Founder of Lux Afrique Boutique
The African continent already embraces virtual currency offering advantages for a young, tech-savvy population mainly using it for commerce. Cryptocurrency transactions in Africa are growing rapidly. Monthly cryptocurrency transfers to and from Africa under $10,000 (R144 550) shot up by 55% over the past year, reaching a peak of $316 million in June. Individuals and small businesses in Nigeria, Kenya and South Africa account for most of this activity. Africa is well positioned to take advantage of the cryptocurrency boom.
The Boutique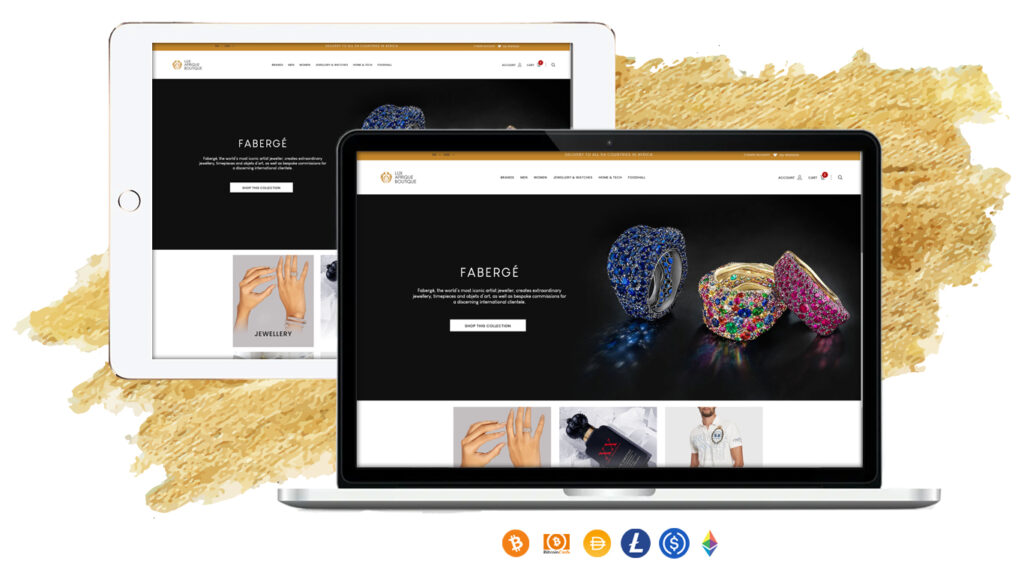 Upon entering the online boutique, clients are presented with a multitude of high-end brands on this unique platform. Splurge on an exquisite timepiece from Backes & Strauss, or jewellery from Fabergé & David Morris. Expect to find designer furniture, homeware, and the latest audiovisual equipment like Bang & Olufsen, to decorate your home. The shopping experience is complemented by the finest champagnes and spirits, including Louis XIII and Dom Pérignon.
Backes & Strauss Berkeley 37 Luxury Diamond Watch – 37 Mm Rose Gold

David Morris Pearl Deco Ring Akoya Pearl

Bang & Olufsen Beoplay A9 – Design Speaker

Fabergé Palais 18k Rose Gold Diamond Drop Earrings With Pink Guilloché Enamel
Should you not be able to find your special piece, our Personal Shoppers are on standby 24 hours a day to source and deliver any luxury product directly to your home. For VIP clients, a limited selection of merchandise can be delivered within 48 hours to any of the 54 countries in Africa.
Feel free to contact our team to enquire about your luxury needs.
WhatsApp: +447405147040 | Email: [email protected]