BY
PHOTOGRAPHS BY
The Atlanta rapper Future started his hip-hop hot streak on a hit song called "Bugatti." But he's got nothing on 82-year-old Giorgio Armani, who just designed a line of clothes with Bugatti. So we brought all three of them together – the rapper, the designer, and the hypercar – in Milan, Italy, for this GQ Style exclusive.
In early July in Milan, two megastars met to create "a movie." That's what Future, Atlanta native and rap juggernaut, calls a big moment. When he arrives on set, he makes an announcement to the photographer, the videographer, and several dozen Milanese people (who, it's safe to assume, have never heard "March Madness,"DS2,or any of the other cult classics he's released). "You gotta catch the sauce," he calls out. "Move with me.… I'm dripping sauce." And then he strikes his first pose. Language barrier be damned—the Milanese natives could see that the sauce was undiluted.
Soon thereafter, Giorgio Armani descends from his four-story marble-laden fortress. (We're shooting in the courtyard of his home, within walking distance of the Armani hotel, Armani Nobu, the Armani bookstore, and the Armani café.) Twin lion statues that are poised in the driveway act as air-traffic controllers as the legend lands. His walk is deliberate, his presence like a supernova. But it's not until he smiles—a smile just as electric as Future's, sans a few gold bicuspids—that the movie begins.
As with any good blockbuster, the superstars are provided with a glorious feat of human imagination and engineering—something to get the fanboys dreaming and drooling. In this case: the new Bugatti Chiron. It's what's known as a hypercar. It's one of the fastest, most expensive cars on the planet. The price tag? About $2.6 million. Top speed? Over 261 miles per hour. Out of the three megastars present, it may very well have the biggest ego. It's the centerpiece today, a spaceship parked on a centuries-old marble courtyard. A movie.
"I know how much he suffers to be where he is. He's suffered just like I've suffered. So…we're friends in a way." – Giorgio Armani
And this movie has depth. It has feeling. It has surprising lines that pack a strange, wizened heft. For instance, when Armani first speaks about Future, this is what he says: "I know how much he suffers to be where he is. He's suffered just like I've suffered. So…we're friends in a way."
How's that for dripping sauce?
Future, 32, fully comprehends the weight of this sage compliment. "He's seen all kinds of artists over the years," he says. "He can basically just look at you and tell. Sometimes I get nervous about being accepted by people like him, because you never know. But someway my walk of life and his walk of life have connected."
From there, Armani lets Future in on what it's like to basically own a city and why—above all—it's important not to be a one-trick pony. "All of these different ventures just make me closer to other people," Armani says. "Things that people love, like a good restaurant, connect me with them and them with me." As far as connecting with this particular ATLien, Armani says, "It's important to meet any icon in their field." Future looks like someone just supercharged the batteries in his back. "I have to go places beyond music," he says.
"He's the top designer in the world. I'm the top rapper in the world. Some hits are going to come from this experience for sure." – Future
So maybe there's a "Future Nobu" in the works soon, but first, the legend-in-the-making has a soundtrack to record. "My music is like a diary," Future says. "I use every experience." He stares off at Armani's perfectly manicured garden, which basically shares a wall with the Pinacoteca di Brera, a museum that houses works from the 15th century. "He's the top designer in the world. I'm the top rapper in the world. Some hits are going to come from this experience for sure."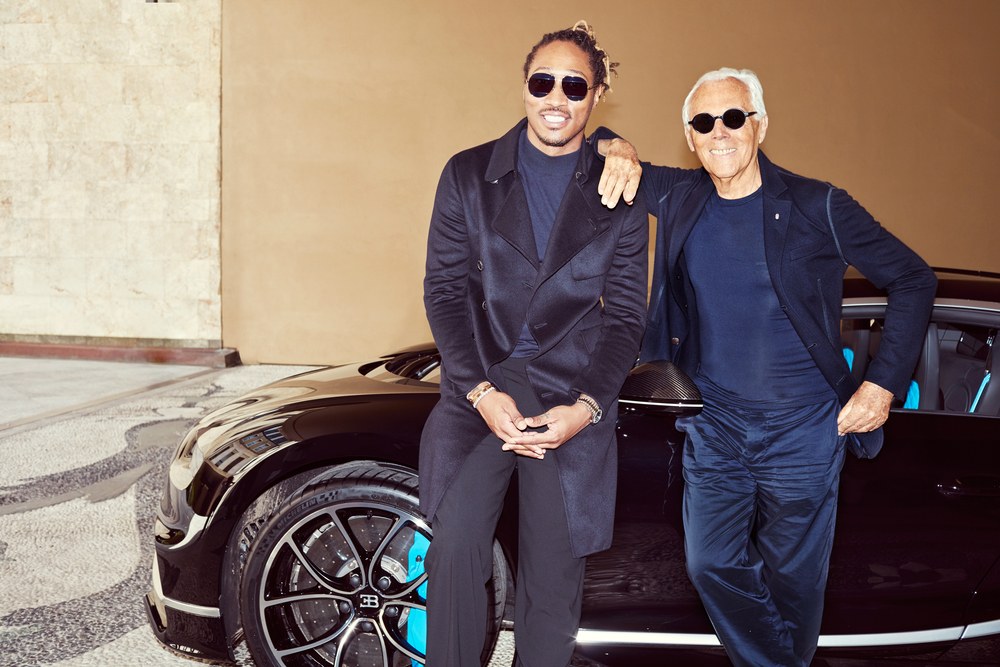 About This Shoot: When a Design Legend Collaborates with a Hypercar
A few months back, the Armani team hit up GQ Style and told us that Giorgio had designed a new capsule collection with Bugatti. We were intrigued, and the name Bugatti immediately made us think of Future, so we proposed bringing Future to Milan to meet Mr. Armani and check out the clothes. Everyone agreed, and an unlikely friendship was born. Future's wearing the collection in these photos. Probably because Bugatti makes about one car a week—usually for someone in the Billionaire Boys Club (part of the whopping price tag: every car is made-to-order)—Armani didn't skimp on the luxury. The cashmere jackets are lined with more cashmere. The leather goods are so soft and supple they feel vulnerable to the touch. The curtain closer of the collection? That "price upon request" crocodile sports jacket Future's wearing above. We think he looks killer in it—and hey, he can afford to.
SOURCE: GQ.COM