Tiffany held a Gala to celebrates more than two hundred breathtaking pieces of high jewellery, read their press release below.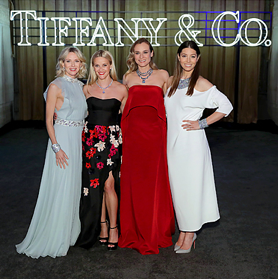 NEW YORK, NY (April 15, 2016) — Tiffany & Co. tonight hosted a gala celebrating the debut of its 2016 Blue Book Collection, featuring the world's most magnificent jewels.
Inspired by design director Francesca Amfitheatrof's theme for the collection—The Art of Transformation—the gala was held at the Cunard Building, an ornate Italian neo-Renaissance landmark in lower Manhattan.
In these sumptuous surroundings, approximately 300 guests and celebrities from around the world including Reese Witherspoon, Diane Kruger, Jessica Biel, Naomi Watts and Eve Hewson embarked upon an evening transformed by a kaleidoscope of color, music and dance. The interior was adorned with floating silver spheres inspired by a bib necklace of more than 3,000 diamonds from the 2016 Blue Book Collection. There was no mistaking the opulence of the evening or the collection it intended to celebrate.
Photo Credit: Getty Images – Esperanza Spalding in Tiffany jewels at the premiere of the Tiffany & Co. Blue Book, Cunard Building, New York City, April 15, 2016

" We've lit up the night with our beautiful diamonds and our breathtaking Blue Book jewels," said Frederic Cumenal, chief executive officer of Tiffany & Co., of the immersive experience. " They embody the Tiffany heritage of honouring nature's most precious wonders through innovative design."
Cocktails with music by Steinway Artist Lee Musiker and dinner prepared by Bryce Shuman, renowned chef of Michelin Star restaurant Betony, were accompanied by spectacular entertainment featuring the talents of four-time Grammy® Award winner Esperanza Spalding, and choreographer Luam Keflezgy, who created a dance sequence with music inspired by " The Art of Transformation." After the third and final performance, guests moved to the dance floor, which was transformed by the sounds of DJ Kiss.
Tiffany & Co. Blue Book 2016 Copyright © 2016 DMS Productions
Tiffany is the internationally renowned jeweller founded in New York in 1837. Through its subsidiaries, Tiffany & Co. manufactures products and operates TIFFANY & CO. retail stores worldwide, and also engages in direct selling through Internet, catalog and business gift operations.
For additional information, please visit Tiffany.com