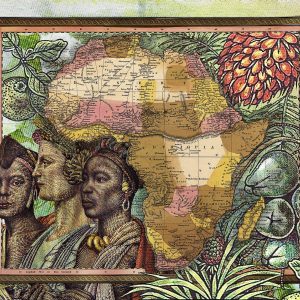 AFRICA TELLING A WORLD features thirty-three prominent African artists south of the Sahara who tell their story through diverse mediums.
Featured Photo: Georges Adéagbo, The revolution and the revolutions, 2016, 11th Shanghai Biennale
AFRICA TELLING A WORLD is an exhibit curated by Adelina von Fürstenberg. Video and performance curated by Ginevra Bria. Showing in Milan 27 June – 11 September 2017 at PAC Padiglione d'Arte Contemporanea, Milan.
The Exhibit
Each year, the PAC Milan explores contemporary artists, highlighting one of our seven continents. This year Africa is in the spotlight and thirty-three African artists tell their story of Africa. Through painting, sculpture, installations, and multimedia, each artist tells his or her story. Presenting an exhibit that teaches the viewer about the most diverse continent on earth.
The Curators
Adelina von Fürstenberg, international curator, and pioneer in contemporary art for her multicultural approach, created an exhibit that as a result, reminds us of the sometimes-harsh contradictions and challenges we see in Africa today. Pieces were procured from both public and private collections and are on exhibit at PAC from June 27 until September 11, 2017.
Ginevra Bria is an Italian art critic and curator who works on the historic and contemporary avant-gardes. She is currently curator of Isisuf – the International Institute of Studies on Futurism and director of the Belloli-Vieira archives.
The Art
In addition to a section of design objects, the show is divided into four sections: After Independence, Identity Introspection, Generation Africa, and The Body and the Politics of Distance.
After Independence
The After Independence collection exhibits work from master artists who boldly ignore the demands of criticism. Featuring works by Frédéric Bruly Bouabré (Ivory Coast), Seydou Keïta (Mali), J.D. Okhai Ojeikere (Nigeria), Idrissa Ouédraogo (Burkina Faso), and Malick Sidibé (Mali).
The photography set in the 1950's to 60's of Seydou Keïta and Malick Sidibé and J.D.'Okhai Ojeikere bring the viewer back in time to intimate portraits showing daily life and the fashions of the time.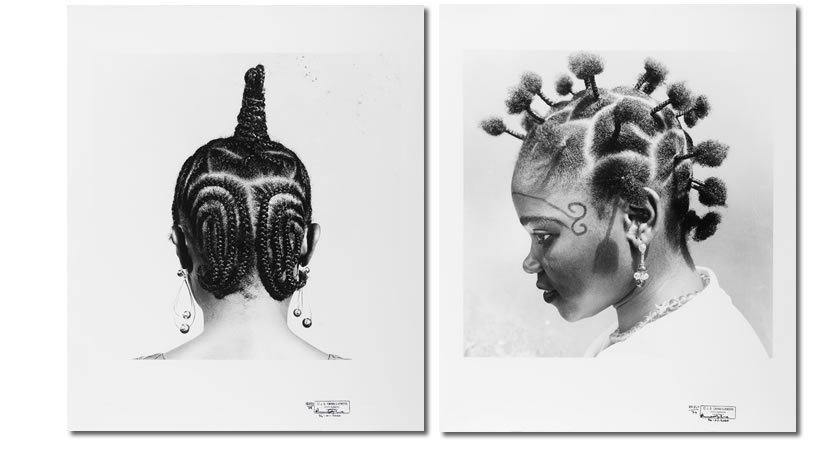 Photo: J.D. 'Okhai Ojeikere –  Suku Sinero Kiko, 1974 gelatin silver print Courtesy CAAC – The Pigozzi Collection, Geneva
A private album by the photographer J.D. 'Okhai Ojeikere,  Hairstyles 1968–1985, showed to a guest during a friendly visit for tea, became the basis of an entire exhibit, some of which are here on loan for this exhibit.
Identity Introspection
The Identity Introspection collection explores political, social and economic themes such as poverty, war and genocide, AIDS, environmental issues and corruption. Featuring works by Georges Adeagbo (Benin), Abu Bakarr Mansaray (Sierra Leone), Romuald Hazoumé (Benin), Pieter Hugo (South Africa), Richard Onyango (Kenya), Chéri Samba (Congo), Abdelrahmane Sissako (Mauritania), Yinka Shonibare MBE (Nigeria), and Barthélémy Toguo (Cameroon).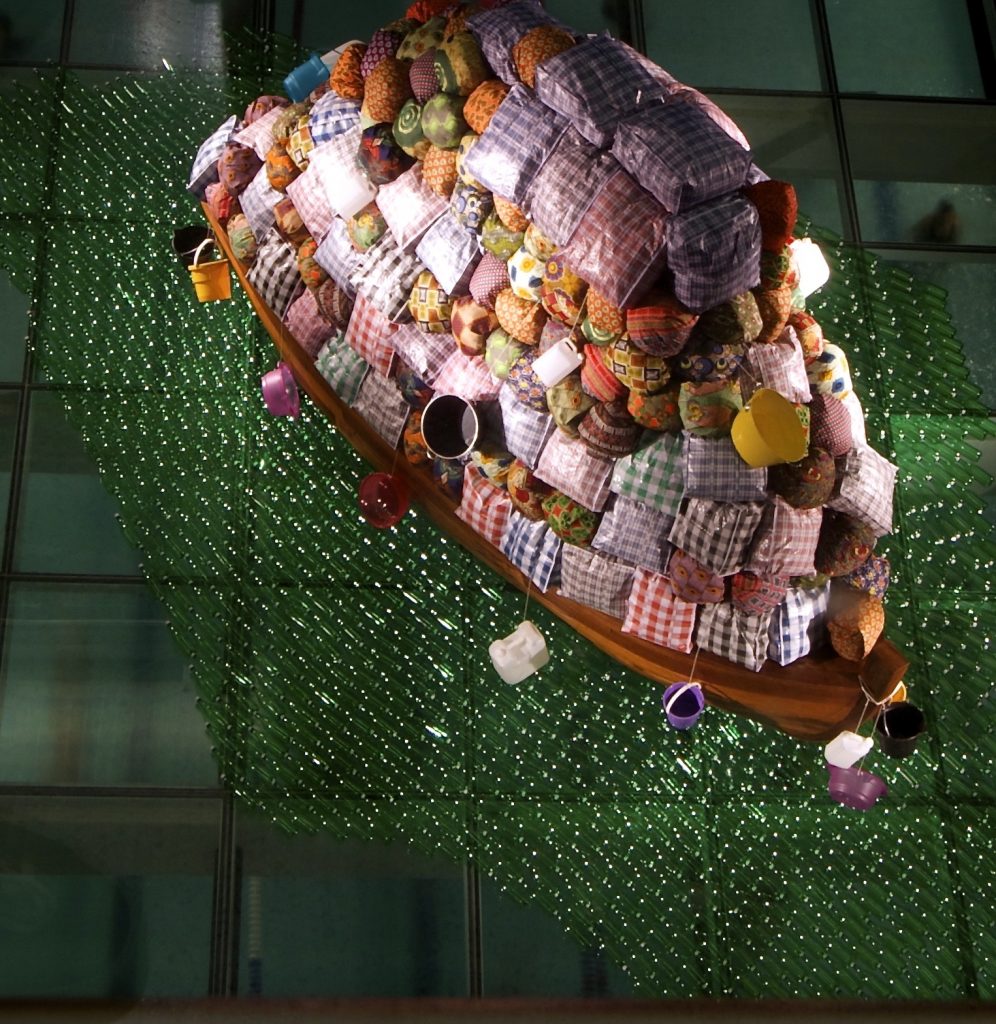 Photo: Barthélémy Toguo Road to Exile, 2015 Wood boat, bundles, plastic bags, bottles SESC Belezinho, São Paulo, Brazil Courtesy of the artist, Galerie Lelong, Paris and Bar Djoua Station, Cameroon
Touguo's  Wood Boat explores the issues of the economy and the environment using a Noah's ark of  bundled bags and cloth sacks sailing on a sea of plastic bottles. Perhaps the artist is telling us that today we give more importance to commerce and consumption rather than the world around us.
Generation Africa
The Generation Africa collection bring to surface the new generation of artists that are confident and fully aware of their identity. Artists that have studied abroad and have broken out of stereotypes, fearlessly dealing with issues such as individualism, immigration, violence and gender issues. Artists featured in Generation Africa are Malala Andrialavidrazana (Madagascar), Omar Ba (Senegal), Kudzanai Chiurai (Zimbabwe), Senzeni Marasela (South Africa), and Billie Zangewa (Malawi).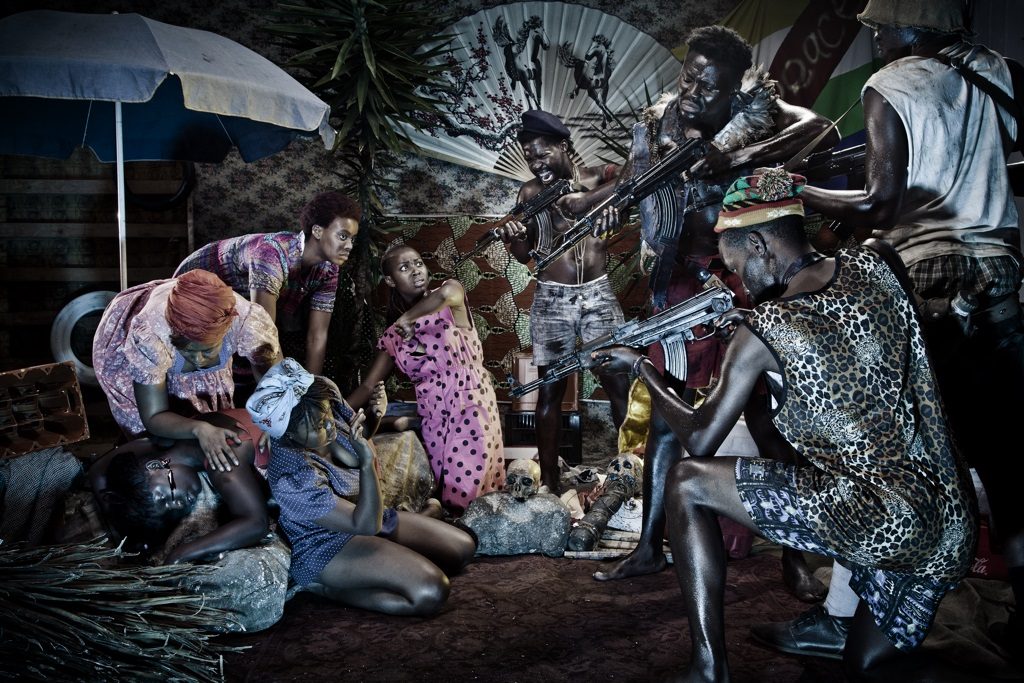 Kudzanai Chiurai Revelations VI, 2011 photograph Courtesy CAAC – The Pigozzi Collection, Geneva
A surrealistic scene perfectly lit and staged. A scene of violence and aggression against women is perhaps full of more truth than we wish to admit. Four women around a dead woman in weak, fearful postures, yet one, looking her aggressor straight in the eye. The men are growling, arrogant, hateful and short of explosion.
The Body and the Politics of Distance
The Body and the Politics of Distance is a collection of video, installations and performances where body and gesture are the subject focal point. Forced distance set between the viewer and the subject leave the visitor with both warm familiarity as well as an uneasy curiosity. Artists featured are Nathalie Anguezomo Mba Bikoro (Gabon), Gabrielle Goliath (South Africa), Ato Malinda (Kenya), Zanele Muholi (South Africa), Tracey Rose (South Africa), and Berni Searle (South Africa). Vernissage performances by Donna Kukama (South Africa), Buhlebezwe Siwani (South Africa) and Anne Historical (South Africa).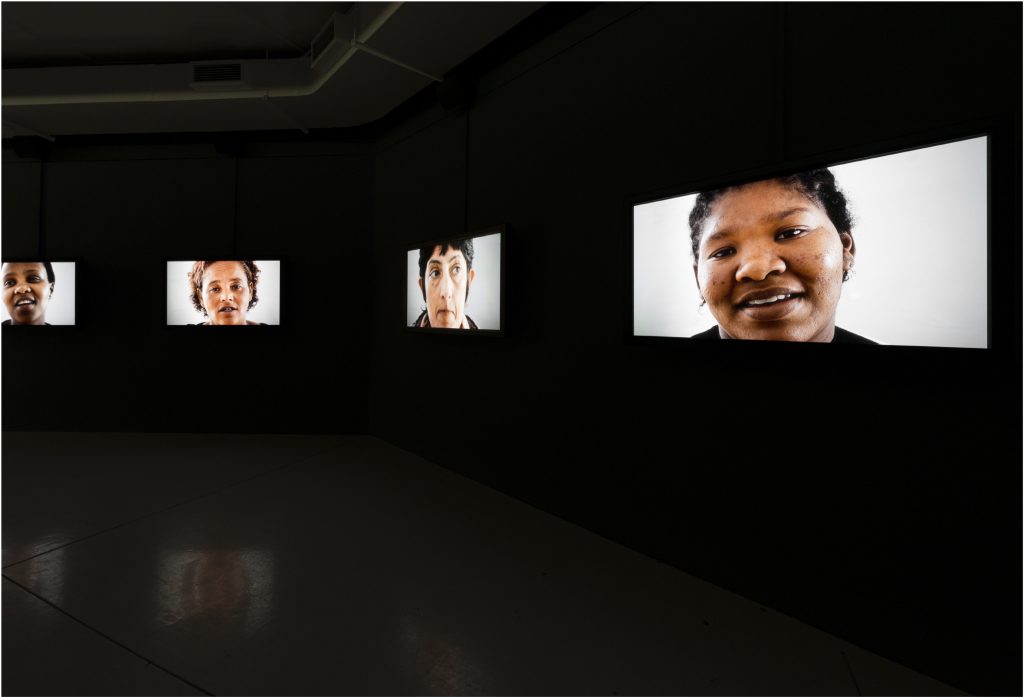 Photo: Gabrielle Goliath's Personal Accounts  Installation
Survivors of domestic violence tell their stories to Goliath, but the words are edited out. The in between pauses and breathes tell us so much more than words would.
Designers
In addition, the exhibit also features pieces from the following African designers: Dokter & Misses (South Africa), Alassane Drabo (Burkina Faso), Amadou Fatoumata (Senegal), Gonçalo Mabunda (Mozambique) and Nawaaz Sadulker (South Africa).
Photo: GONÇALO MABUNDA Weapon Throne metal, recycled weapons Courtesy Thierry Barbier-Mueller Collection
A poignant piece using weaponry waste left over after the Mozambique Civil War.   Artists worked on pieces of reconfigured metal, consequently creating works of beauty.
The Throne seems to symbolize new pride and renewal after hardship and grief. The large spacious seat is probably sending a message to humanity, discouraging us to sit in the seat of war.
AFRICA TELLING A WORLD
27 June – 11 September 2017
PAC Padiglione d'Arte Contemporanea
Via Palestro, 14, Milan
Many thanks to the PAC Milano for inviting LuxAfrique to attend the show.
Photos Courtesy PAC Padiglione d'Arte Contemporanea, Milan
Interpretations by the author do not intend to represent the ideas or goals of the artists or gallery.