African Cuisine is the new cool. It's flavourful, colourful and has a taste of the world in just one bite. Fine African Cuisine is slowly and steadily making it's way into the world. With its unapologetic spiciness and unique presentations, the evolution of fine African Cuisine has come a long way.
For centuries, the world has ignored the influence of African herbs, spices, and signature dishes. The fear of the spiciness or the flavour of a peculiar herb that titillates your tongue, sending ripples of pleasure through your senses can no longer be ignored.
A new generation of food conscious Africans has emerged. They call themselves Afropolitans, a.k.a.: The Cosmopolitan African. Introducing the world to Fine African Cuisine, using techniques they have learned from their ancestors and elders is their delicious strategy to seduce the world with food. And it is working.
African dishes for years use nature as it's inspiration, using leaves from trees, herbs from the earth, exquisite dishes made in clay pots, etc. In the new millennia, we, the Cosmopolitan Africans find inspiration in nature and present it in a way that is authentic, first-class and mouth watering.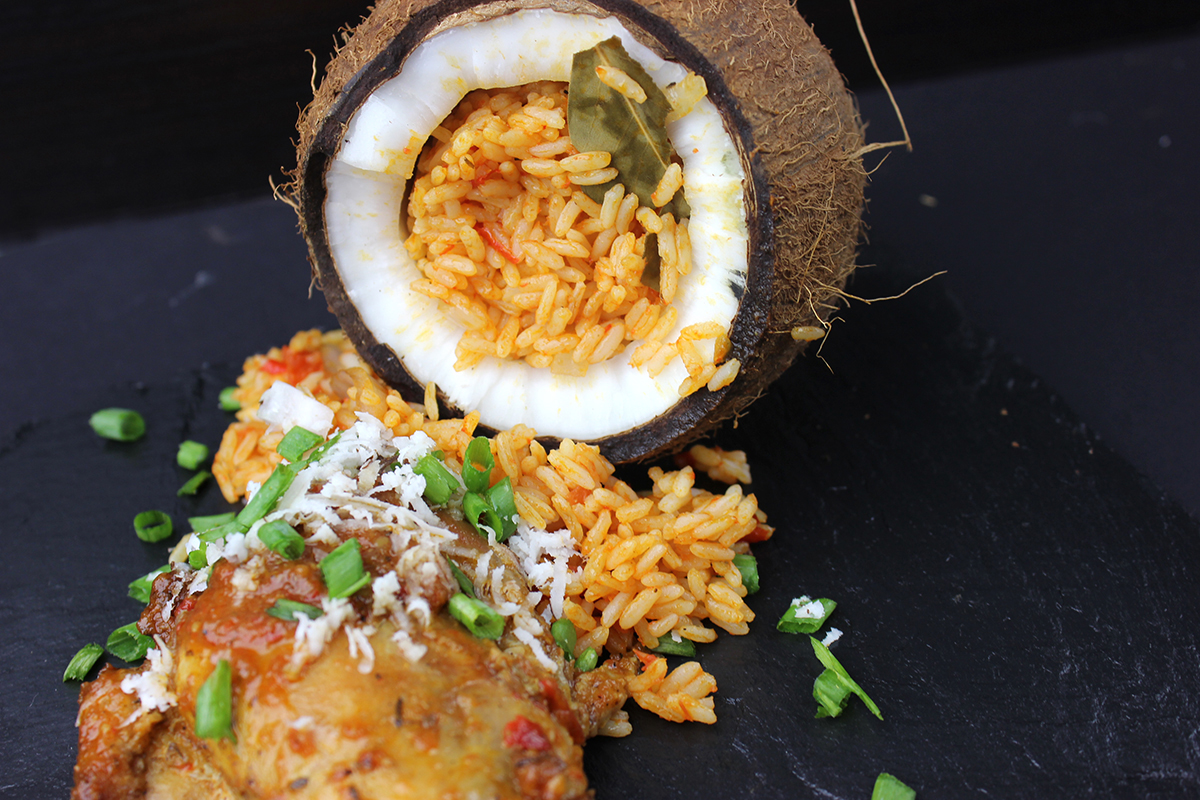 Fine African Cuisine is as diverse as the people of Africa. Influenced by techniques from its many evolutions in history and cultures, over the centuries. From the South to the East to the West of Africa the unique thread is love inclusive.
A popular recipe in the West African region that has found its variations in North America (Jambalaya) and Latin America (Paella) is Jollof rice. It is widely shared that Jollof rice is originally from the Wolof tribe of Senegal, Also known as Benachin, which means "one pot," Jollof rice is a signature dish for special occasions. It is a great mix of spices and ingredients in a tomato based sauce. The smell of curry, thyme, peculiar seasoning in the air, teasing your senses making your mouth water and yearn for a taste of this deliciousness is understandable. Below, you can find a recipe for this classic dish that can be prepared in less than 60 minutes.
Jollof Rice. This recipe has 271 Calories.
• 2-3 cup of long grain rice
• 2 pieces of chicken thighs
• 51⁄2 cup of water
• 2 plum tomatoes
• 1 red onion
• 1 tablespoon EVOO (Extra Virgin Olive Oil)
• 1/2-cup vegetable oil
• 2 cups of chicken broth
• 2 tablespoon of salt
• 11⁄2 teaspoons of curry
• 1⁄2 a teaspoon of thyme
• 2 Bouillon cubes
• 1 red bell pepper
• 3-4 bay leaves
Instructions
• 1. Add 1⁄2 cup of water or chicken broth into a blender, blend 1 red pepper, 1 tomato and half an onion. Season chicken with bouillon, salt and curry (let it seat for 7-10 minutes, grease baking sheet with butter, then place chicken piece, bake in oven at 350degrees for 15-20 minutes on each side
• 2. Pour 1/2 cup of vegetable oil in a pot and preheat till slightly hot. Test heat with a slice of onion. Once it sizzles, pour in blended peppers and 1 cup of chicken broth. Add I tablespoon of salt, bouillon, curry and thyme to taste. Let it boil for 7-10 minutes
• 3. After 15 minutes scoop out 1/2 a cup (you will use that to season your chicken in the oven if you so desire). Slice your onions and tomatoes
• 4. Wash rice with water until water is almost clear. Drain, and then pour in your rice into the cooking blended peppers in pot, at medium heat. Let it cook. After 10 minutes, add the sliced onions tomatoes and bay leaves
• 5. While that is cooking, check on your baked chicken, turn over the other side then stir your rice. Then, let your rice cook for another 7-10 minutes and you are done.
• 6. Serve on your plate. For shaping, your rice use a bowl or object that has your desired shape. Fill it with rice and turn over to serve. Place baked chicken beside it and add slices of tomatoes for garnish.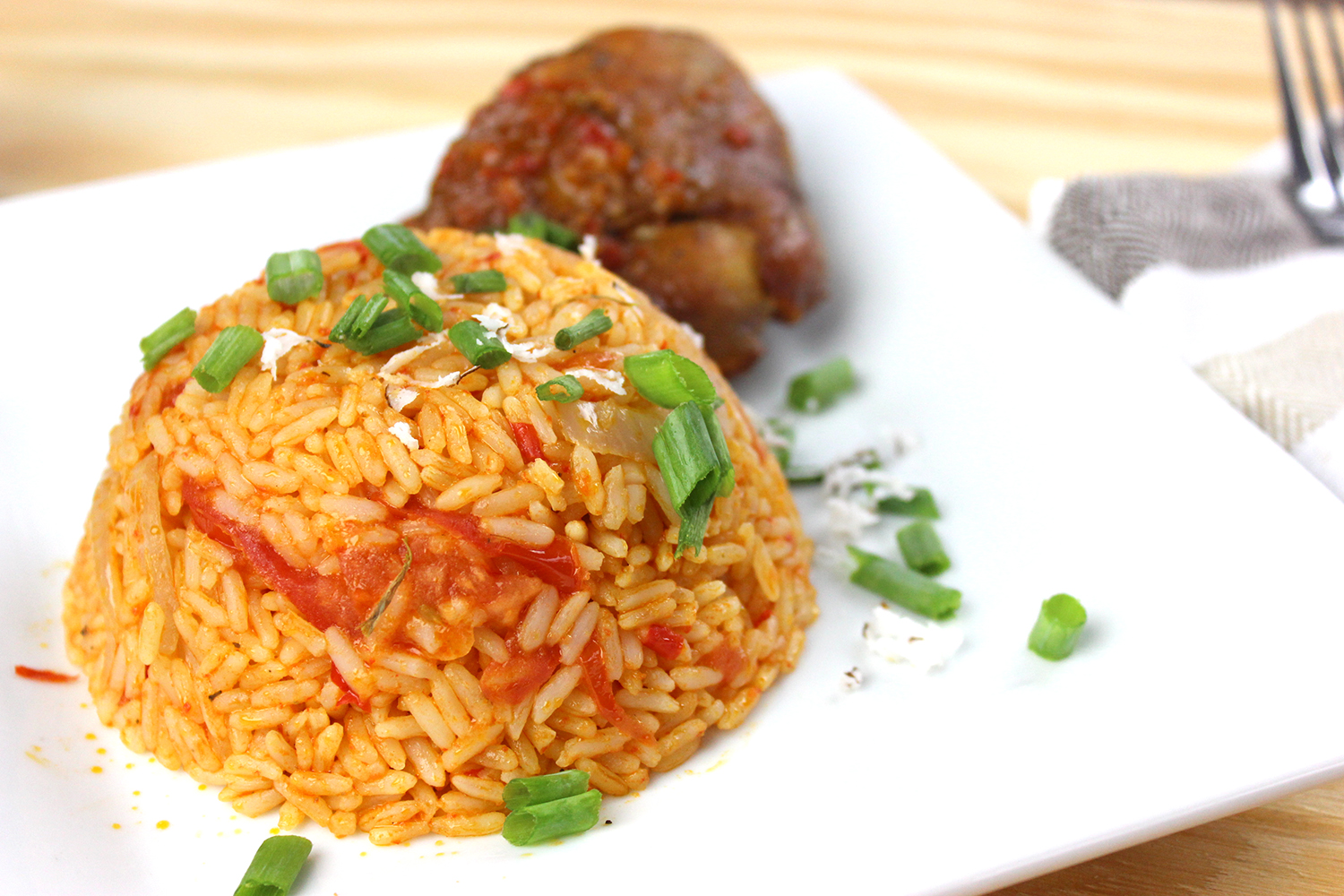 Using spices like thyme, coriander, cilantro, ground crawfish, nutmeg, African Cuisine is rich in Mother Nature with a slice of exquisite as an appetiser.
To be an invited guest to taste African Cuisine is a great experience. Afropolitans pride themselves on hospitality, making sure from your knock at the door, to the hug goodbye, you leave with memories that connect you with love to the world.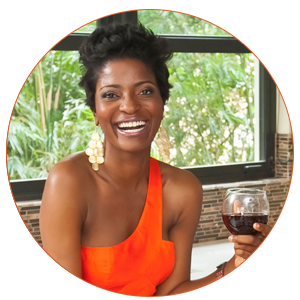 BIOGRAPHY
Yetunde is a Life Style Serial Entrepreneur. As the Afropolitan Chef and the Culinary Ambassador to African Cuisine, she taps into the love of African Inspired food to bring people together.
Yetunde is an Amazon bestseller author with her cookbook "Love With Food African Fusion Meals Made Easy". For more visual experience of African Cuisine, follow her online
Instagram @AfropolitanChef
Twitter @afropolitanchef
Facebook AfropolitanChef
Youtube Afropolitanchef
Pinterest Afropolitanchef
Or log on to www.afropolitanchef.com