Richard Mille is known for his ultra-luxury, and extremely sophisticated timepieces and the RM 07-02 Pink Lady Sapphire is no exception. According to Bloomberg.com "This pink sapphire case isn't carved out of a massive, naturally occurring stone. It's made from the same sort of synthetic sapphire used for watch crystals. First the huge piece of pink sapphire has to be created in a lab with sufficient purity and clarity to allow the light to shine through without inclusions."
The name itself was inspired by the 1930 cocktail drink "Pink Lady", which was designed for female members of the high society and the timepiece has proven to be one of the most exotic ladies' watches from Richard Mille till date.
The cost of production one of these is more than a lot of luxury watches cost at retail. The entire movement is itself is made from solid red gold, including the winding rotor, with a grained finish and beveled edges throughout.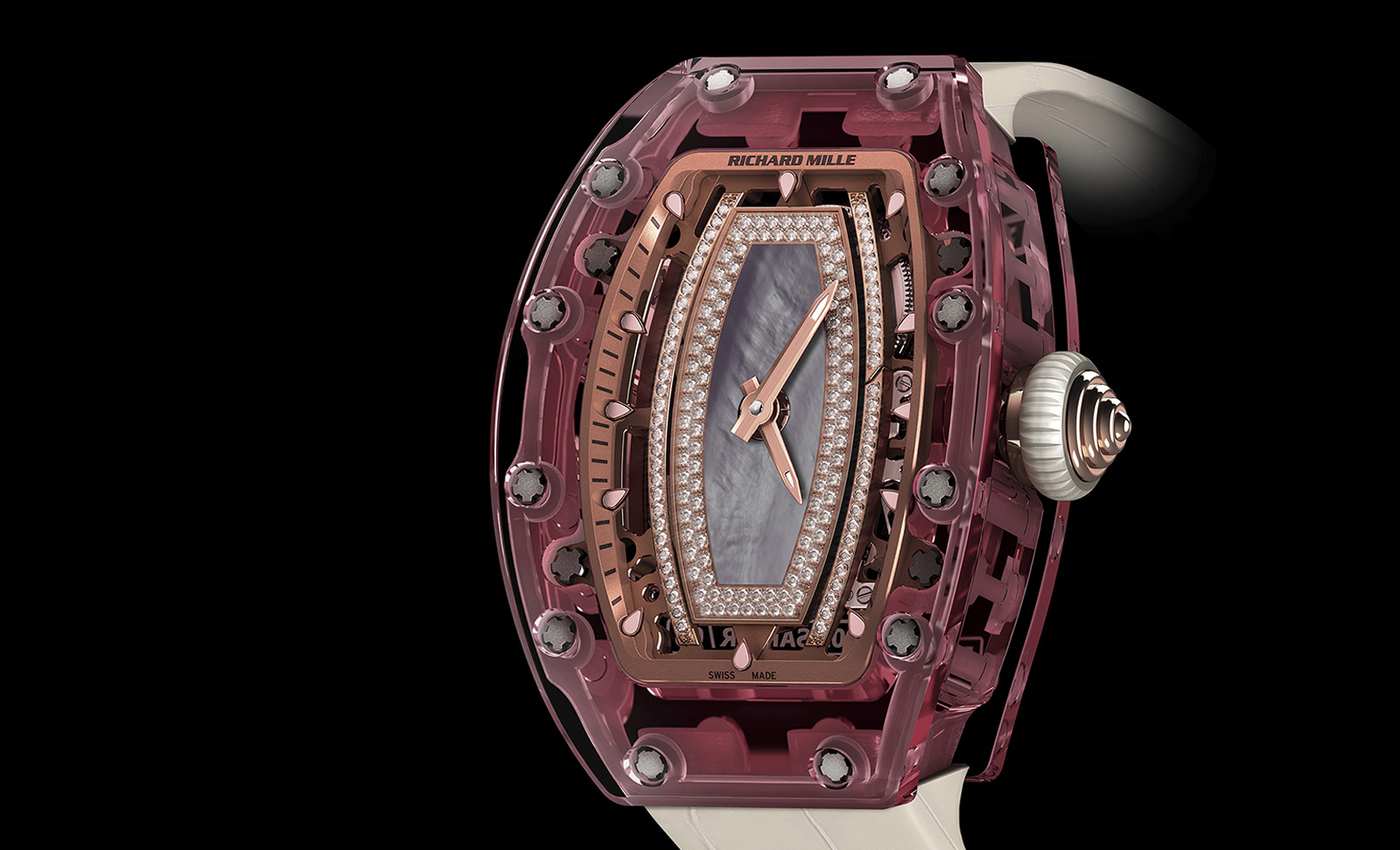 THE CASE
The bezel and case band of the RM 07-02 Pink Lady Sapphire are made from solid blocks of pink sapphire which are a scratch resistant material and has the hardness of 1800 Vickers. It has been created by using crystals of Aluminium oxide (Al2O3), and the purity of composition gives it a transparent appearance and the skeletonizing shows off the gears and mechanics inside while leaving enough gold to let the wearer thoroughly appreciate it. The baseplate and bridges in the gem set are machined from 18k red gold micro-blasted and beveled by hand.
It is decorated and set with hundreds of diamonds. From a technical and engineering point of view it's a challenging piece of art, as a matter of fact, often the case is seen as tough to machine as there is no room for a single cutting error. However, welding it at different angles will inevitably cause cracking, and the entire sapphire crystal block would have to be disposed of, machining all the components constitute the biggest challenge faced by Richard Mille which has made the process exceptionally delicate.
Furthermore, it requires almost forty days and 800 hours of machining and finishing to meet the rigid specifications set by the noble Richard Mille who, I must say, is very meticulous in his timepiece designs.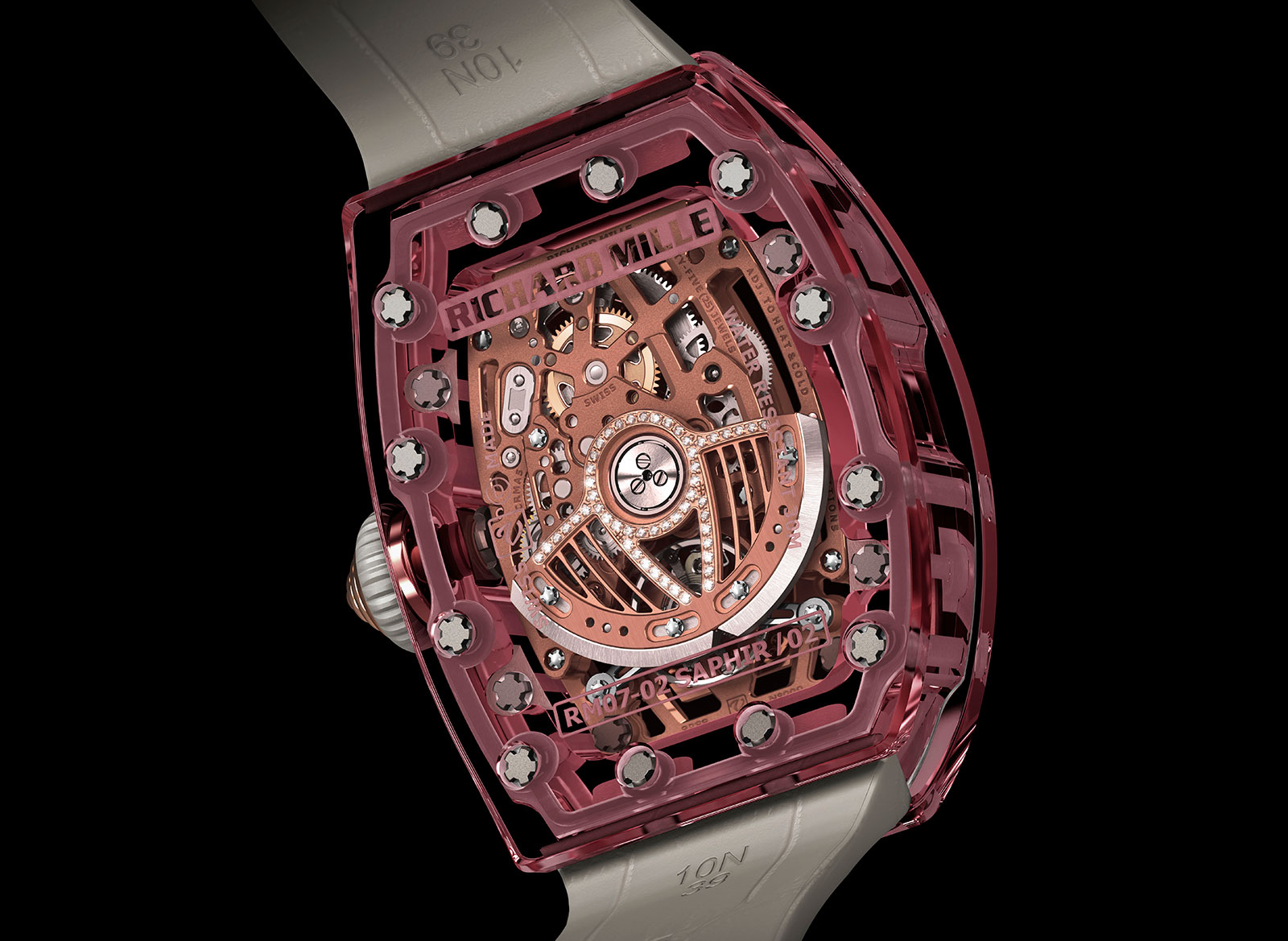 GEMSET ROTOR WITH VARIABLE GEOMETRY
The rotor with variable geometry enables for easy winding and adjustment to the owner's level of activity. It has a hard external outside edge and rough edge ring in 5N red gold (ceramic ball bearing) with a bi-directional winding system. Adjusting these two weights either by sliding sideways into the correct position or fixed in place by spline screws modifies the setting. There is an optimal inertia when the two weights are close to each other and the barrel rewinds more quickly and the inertia is reduced when the weights are positioned at either end of the rotor which causes the barrel to wind more slowly.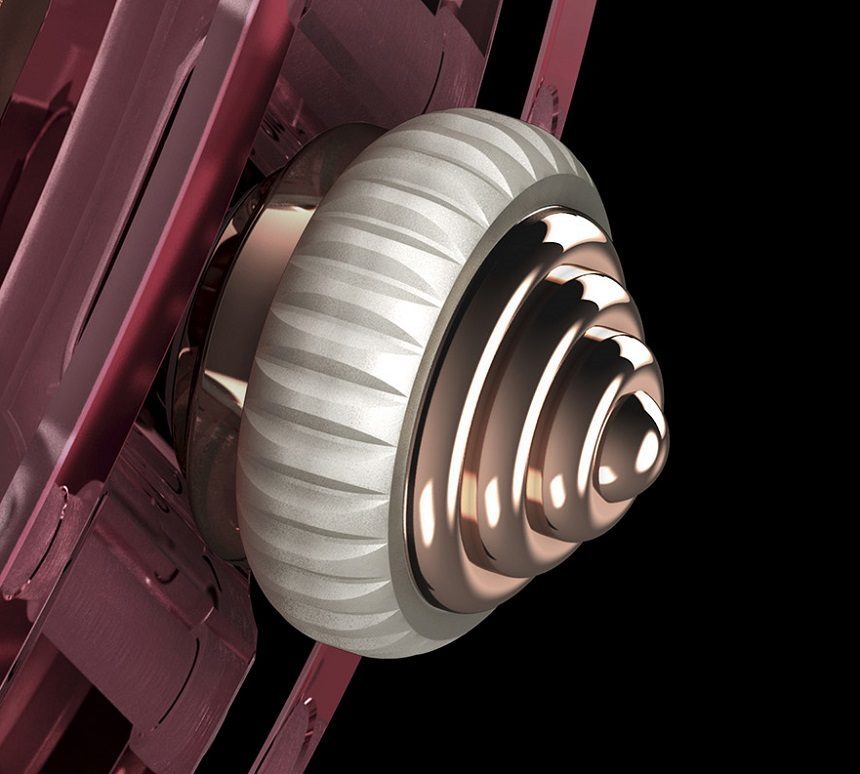 FREE SPRUNG BALANCE WITH VARIABLE INERTIA
The balance wheel has a greater reliability when subjected to shocks and during movement assembly and disassembly, and this gives a better chronometric result over time. The adjustable weights located directly at the balance eliminates the regulator index and provides a more accurate and repeatable adjustment.
FINISHING
It has a satin-finished upper surface with a hand polished beveling and sinks as well as perfectly drawn edges. The profile turning has lapped, polished ends, burnished pivots as well as polished post faces. The wheels have a concave chamfering with a diamond tool with circular smooth faces and Rhodium-plating before cutting the teeth.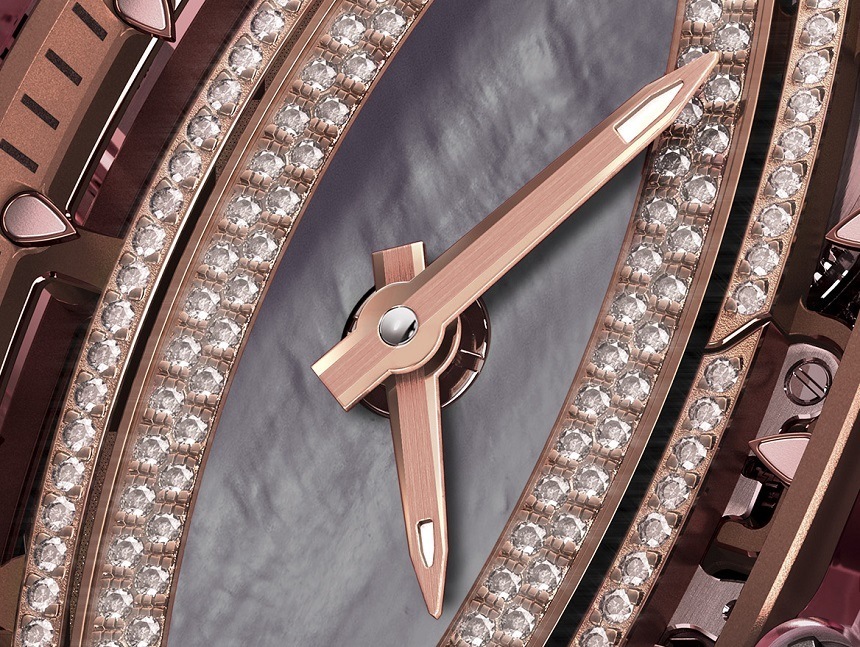 Given the complexity of this beautiful timepiece and the amount of time and dedication put into its creation, a unit goes for a whopping $980, 000 which is still lower than its counterpart RM 056 which costs about $1.65 million. Surely the RM 07-02 is a real beauty and is entirely worth the trouble. It has indeed proven to be an ultra-luxury and striking timepiece for women of the highest class.