We were recently invited to the House Warming party of the Aspinal of London. Here is what we can tell you about the new store of this iconic British brand.

Aspinal of London has got a new home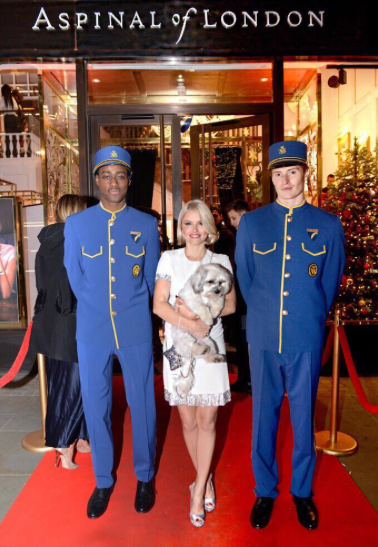 The British luxury leather goods brand, Aspinal of London, has just opened its new flagship store in the heart of London. The brand's most luxurious shop yet, it takes over 3,500sq ft of space on the fashionable Regent Street. Aspinal of London quickly created a national footprint with stores in London, Leeds and Edinburgh. Plus it has got concessions at Harrods and Selfridges. Internationally, the brand has been growing fast, especially in the Middle East, China and the USA, all thanks to its creative director, Mariya Dykalo (centre of photo), who welcomed us in store with a glass of champagne. Mariya's creativity, attention to detail and focus on craftsmanship have made Aspinal of London known for its quintessentially English bags. We are not the only ones who love the brand. Kate Middleton, Duchess of Cambridge, and her sister, Pippa Middleton, are regular customers.
Inspiration behind the new Aspinal of London store
The design of the store was inspired by classic English architecture and style. It combines the understated warmth and cosiness of the country home with the contemporary elegance of a London townhouse. This new spiritual "Home of Aspinal" is the result of some of Britain's finest craftsmen, stonemasons, cabinet makers, and master plasterers. British quirks add flavour to the multi-storey emporium, united by a grand, undulating wooden staircase. While each room welcomes its customers with a stunning open fireplace.

Lifestyle Journey of the Aspinal of London customer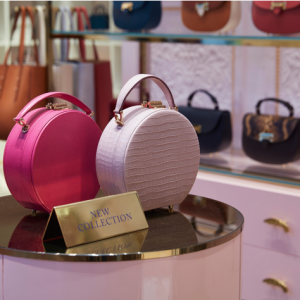 Each room in the store highlights the 'lifestyle journey' of the Aspinal customer. On the ground floor, a beautiful, wood-panelled Ladies' Drawing Room is complemented by a blush pink ladies boudoir. Here, customers can find the latest leather handbags and purses, as well as ladies' accessories. We loved the Mini Hat Box and the Mayfair bag in bordeaux croc. Gentlemen can relax in exquisitely panelled men's room and browse men's business bags, office accessories and travel collections – our attention was caught by a pair of gold cufflinks (they can be engraved if required). Accessories continue upstairs, in addition to a dedicated concierge service and intimate personalisation station. There, customers can enjoy Aspinal's signature monogramming on just about every product, from wallets and leather flasks to journals and silverware. The concierge team also offer a gift wrapping service and can then deliver the gifts almost anywhere in the world within 24-48 hours.
To find out more – check out www.aspinaloflondon.com