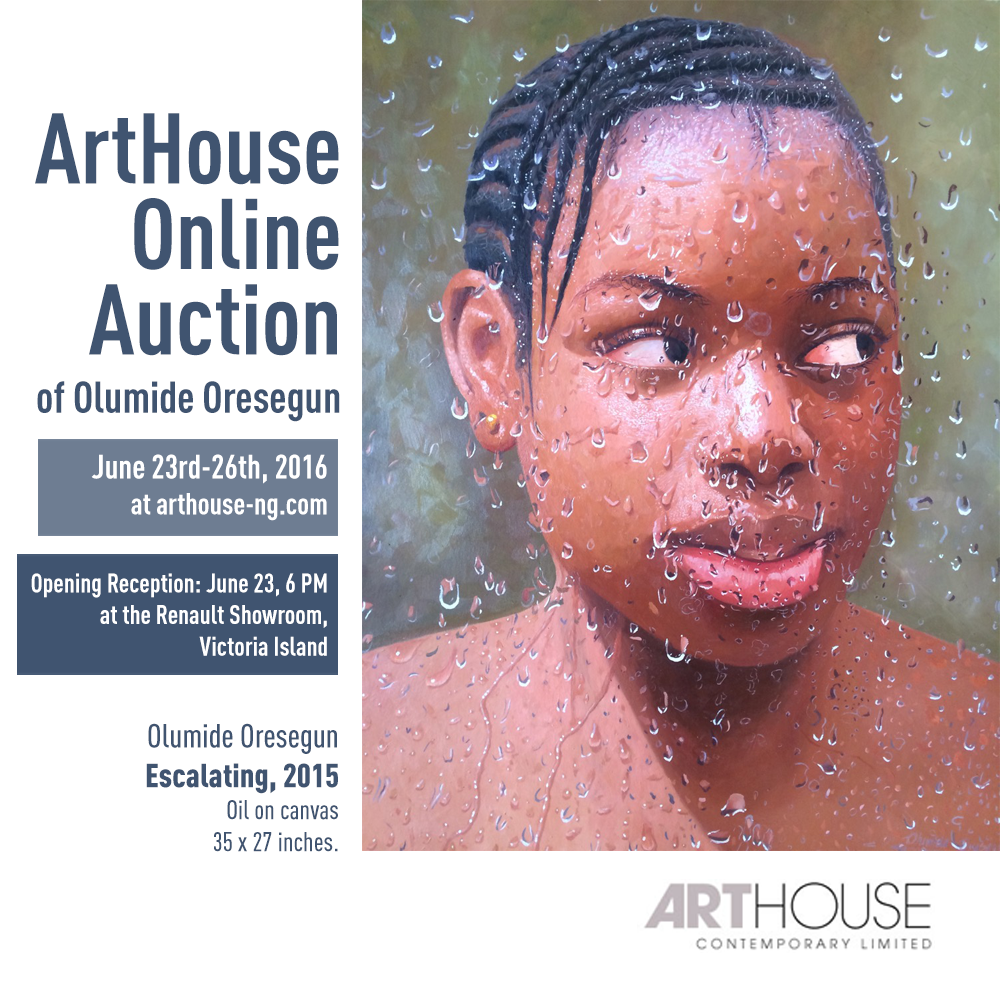 Arthouse Contemporary is pleased to announce the online auction of Nigerian artist Olumide Oresegun, June 23-26, 2016, on their website, www.arthouse-ng.com.
Olumide Oresegun is a figurative artist who is best known for his hyperrealistic and emotional oil paintings. Inspired by his immediate environment and people from his local community, including his neighbours, friends, and siblings, Oresegun calls attention to the quiet moments of childhood. Whether reading, writing letters, or sleeping, Oresegun's subjects are caught off guard in a tranquil moment of reflection.
A graduate of distinction at the Yaba College of Technology, Oresegun received international media attention with a recent CNN article that lauded the hyperrealism of his art. Since then, he has become an Internet sensation for the attention to technique and detail in his paintings, with over 3.2 million views on Youtube and over 44,000 followers on Instagram.
These portraits combine technical precision and minute details to suggest tangible presence and dimensionality. Oresegun uses water as a central motif in his paintings, with water droplets falling in arrested motion off bodies and in mid-air. He also pays particular attention to the flowing creases and folds of the fabrics, blankets and sheets that surround the subjects. In other works, he focuses on occupational scenes including metal workers and market sellers. Through these portraits of childhood and kinship, his work elevates the routine environment to reveal the transcendence of the everyday.
Arthouse Contemporary will hold a live online auction of his paintings for three days, beginning on June 23, 2016, 12 PM, and ending on June 26, 2016, 6 PM. Clients will have the option to bid live on the website.
Arthouse Contemporary will host a reception to launch the online auction on Thursday, June 23, 2016, 6 PM at the Renault Showroom, 43B Akin Adesola Street, Victoria Island, Lagos. The original works of art will be on display during this launch event in the presence of the artist. The works will be available for public viewing on Friday, June 24th (10 AM-6PM) and Saturday, June 25th (10 AM-4 PM).
Founded in 2007, Arthouse Contemporary is an international auction house that specialises in modern and contemporary art from West Africa. With auctions held twice a year in Lagos, Arthouse Contemporary aims to create awareness of the scope of contemporary art in the region, encourage international recognition towards its talented artists, and strengthen the economy of its art market.
For more information, please contact Nana Sonoiki by telephone at 08052500195 or Sumbo Biobaku at 08055099096 or Joseph Gergel by email at joseph@arthouse-ng.com.
Download Catalog here