'I am fascinated by African women. They are resilient, strong and resourceful.' Nelly Wandji is herself a fascinating, African woman. Having studied luxury management and working for some of the top luxury companies in the world, Nelly decided to go it alone and develop her own conceptual identity; Moonlook.
Moonlook charmed Paris almost overnight. The online store, magazine and then successful pop-up in 2015, ensured that Made in Africa products were sought after by tourists and Parisians alike.  With demand high, Nelly observed and made the obvious a reality: Take Moonlook to the next level of success.
From Dakar to Zanzibar, passing through Johannesburg, in search of the most unique and luxurious pieces. Nelly was on no vacation, but a mission to change the view of African Fashion in Europe. 
Her social media platforms were postcards depicting a multitude of hues from the Continent, keeping her public intrigued yet impatient as to her next move and those postcards transformed into new brand names, then behind-the-scenes photoshoots, which led to a mysterious new website, inviting guests to RSVP to the eponymous Nelly Wandji, Cabinet de Curiosité concept store launch, to be part of a new era; Made in Africa in Paris.
10 days have now past since the soft opening, "Knock, knock" I call, my voice beaming through the open plan boutique, beaming and bounding onto vibrant beaded shoes from Morocco and Kente from Ghana, and lumières from Madagascar, I had not even noticed Nelly radiating towards me, adorned in African sheer fabrics.
We hug in celebration of her most outstanding achievement, Africa in Paris' renowned Triangle d'Or. The Triangle d'Or is the illustrious link to Cafe Chic, Avenue Montaigne and the Champs Elysées, and with the clientele gazing in the window and entering to discover art, literature and Fashion, Nelly retires to the back room to tend to her sophisticated guests (when your neighbour, the Senior Vice President of Christie's for African and Oceanic Art visits, one must make oneself available, n'est-ce pas?).
Later, we discuss the literature she has to offer in store 'I didn't want anything too heavy. I want people to enjoy gaining knowledge about Africa. We have some great magazine publications, as well as some outstanding literature about the history of textiles. Africa is not just wax print, and we must tell people outside of the continent that we are and always have been a continent of luxury. That we are showcasing Africa here in Paris.'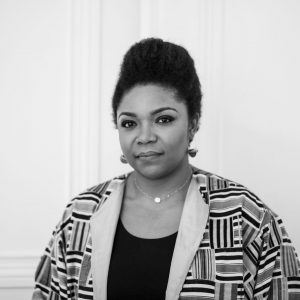 Nelly Wandji, Cabinet de Curiosité in Paris: 93, rue du faubourg Saint Honoré 75008
Open 10am – 7pm Tuesday to Saturday with private viewing by appointment only. Discover the boutique on instagram @nelly_wandji