Valentine's Day is around the corner and if you are still not sure what to do, we have got the perfect idea! Book a table at Savini at the Criterion, and let the romance commence.
The location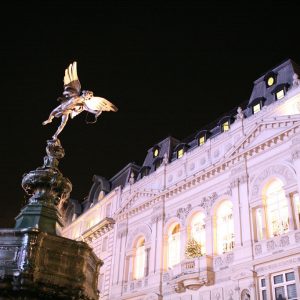 Savini at the Criterion is located in the heart of London, right next to the statue known as 'Eros'. Actually, the statue depicts the Greek god Anteros, the god of requited love. He stood for returned love and punished those who were not interested in love or not returning other people's love. He was the son of the god Ares and the goddess Aphrodite. However, the poor thing is popularly mistaken for his brother Eros in this Shaftesbury fountain memorial. So, start the evening by admiring the statue of Anteros and then continue celebrating your requited love inside Savini.
The building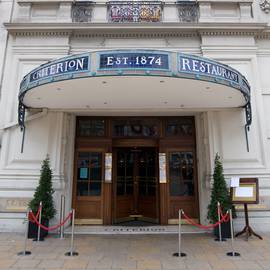 The restaurant is based in a romantic and elegant Grade II listed building called The Criterion. The place has been named as one of the Top 10 most historic and oldest restaurants in the world. It was erected in 1873 and became a popular dinning place with guests such as Winston Churchill and H.G. Wells. It has also inspired a meeting place between Sherlock Holmes and Dr Watson in Conan Doyle's 'A Study in Scarlet'. Savini at Criterion opened its doors in 2015. It is Savini's second restaurant, first being the world-famous Savini Caffè in Milan. It has been serving delicious Italian food since 1867 and hosted the likes of Verdi, Hemingway and Charlie Chaplin. So the two iconic brands merge into one at the Savini at the Criterion to bring rich history and fine dining to life.
The restaurant

Upon the entrance, you are mesmerised by beauty of the neo-Byzantine interior, with its gold ceiling, marble columns and impressive chandeliers. The place beams luxury, elegance and romance all the way from the iconic Long Bar to the Dinning Room and the Fireplace Room. Savini restaurant offers luxury all-day dining from breakfast with homemade pastries through to exquisite Italian dishes for lunch and dinner. With many West End theatres just minutes away, there is also a pre-and post-theatre dining menu on offer. Of course, Afternoon Tea is also served here, with Champagne or Martini options on offer. Those who are up for a quick drink, can enjoy the live piano music and signature cocktails served at the Long Bar.
The food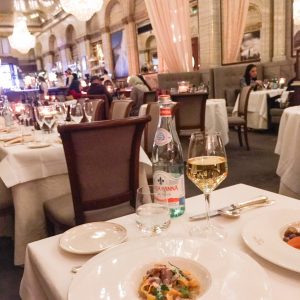 The broad menu is an appealing one and created using locally sourced ingredients, Italian passion and attention to detail. Starters include Mediterranean beef tartare, sword fish tartare, Parmigiana di Melanzane, Stracotto (stew veal cheek) and many other Italian delicatessen. We started with Italian Caprese, comprising of buffalo Mozzarella cheese, tomato and avocado, which I found very fresh and light. Another starter we ordered was the Buffalo Burrata, creatively combined with Porcini mushrooms, pumpkin, chestnuts and raisins. Since Italians eat pasta for starters, I had to try the Tagliatelle pasta with Porcini mushrooms, Taleggio cheese fondue, red fruits sauce. It was delicious and full of flavour.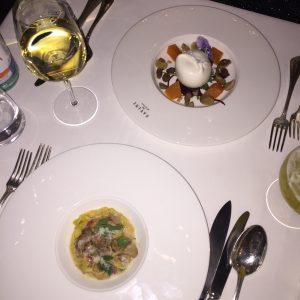 The mains varied from grilled king prawns and baker Turbot fish, to Cacciatora style rabbit and Costoletta alla Milanese (veal chop). I went for the Grilled Irish lamb rack with mushrooms, sage rosemary and Jerusalem artichoke soft polenta and currant jam. It was beautifully presented and looked as good as it tasted. My guest ordered the linguine pasta, with clams, broccoli and anchovies – it had more clams then pasta!
The dessert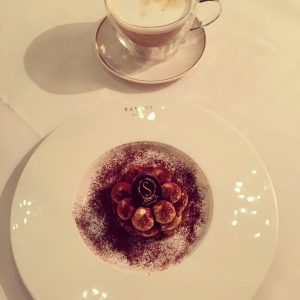 The highlight of the evening was the dessert. I went for traditional Tiramisu, which was pure perfection and melted in my mouth. Pana Cotta was also fantastic, with almond milk and candied mandarine. My request for a skinny vanilla latte with one shot of coffee was taken by the friendly waiter and executed fantastically. Throughout our dinner, the all-Italian staff was positive, knowledgeable and classy as this style of dining demands. Before we left, we were also presented with a massive cookie box to our pleasant surprise. The only downside of Savini is quite a high price tag, but who would expect such a beautiful experience to come cheap?
For more information about Savini at the Criterion and its Valentine's Day special menu, check out http://saviniatcriterion.co.uk/ or visit 224 Piccadilly, Piccadilly Circus, London, W1J 9HP.