Sexy Fish makes summer Sundays the coolest day to eat out and party with the launch of its new Sexy Brunch. Expect brunch twists on its Asian-inspired menu, live DJ sets, and creative cocktails with 'sexy' in their names, like Sexy Fizz and Sexy Fish Bloody Mary.
About Sexy Fish
Sexy Fish is the new venture from the Caprice restaurant group that owns London's favourite restaurants, such as the art-deco inspired The Ivy, and the celebrity-packed Le Caprice. It has already been visited by the likes of Kate Moss, Rita Ora, Craig David, Lindsay Lohan and Ellie Goulding.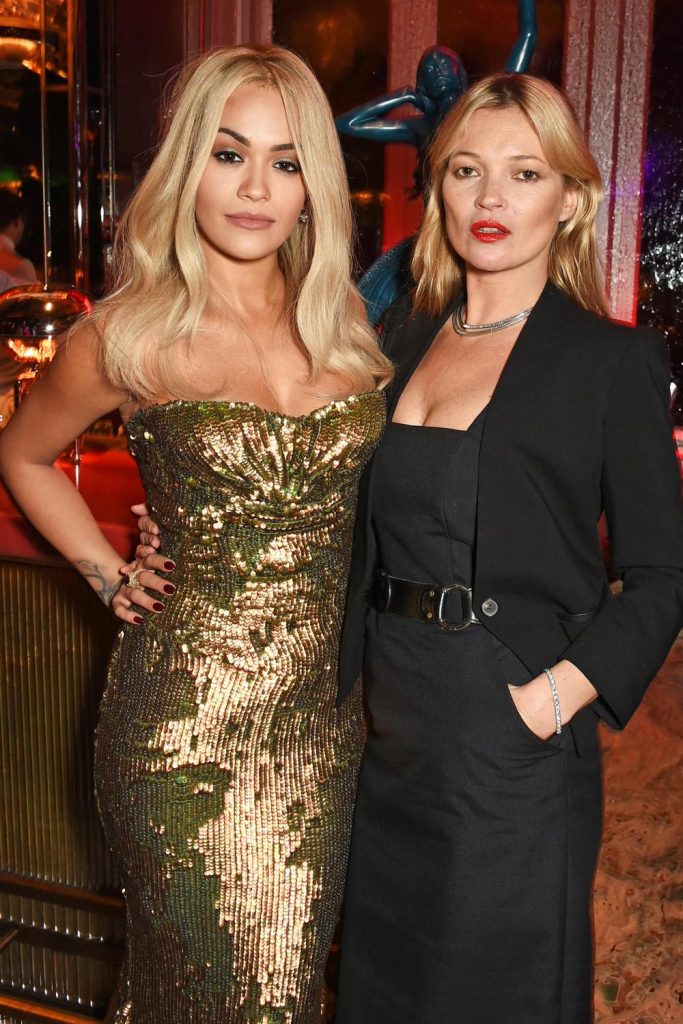 It is located on Berkeley Square in the heart of Mayfair and was opened in October 2015. Designed by Martin Brudnizki Design Studio, the décor in the restaurant is a heady mix of dappled Esmerelda onyx marble floors, dark oak-clad walls and pillars, antique smoky mirroring and raspberry leather chairs. The ceilings are adorned with bespoke coral-patterned linen panels from artist Michael Roberts. Frank Gehry's beautiful shimmering fish (Fish Lamps) hang above the bar, softly glowing and undulating as if they were in the sea, rendered even more realistic by a flowing water wall behind the bar. In addition to that, Damien Hirst has created three site-specific artworks for the restaurant, including a pair of exquisitely cast bronze mermaids, rendered in blue patina, positioned on either end of the bar; and a 15ft bronze relief panel by the artist, in which a mermaid is presented alongside a shark.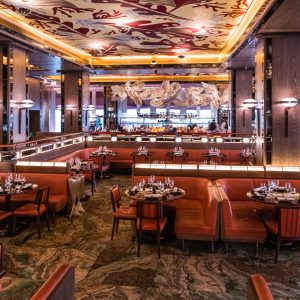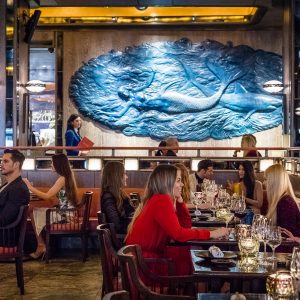 Sunday's Sexy Brunch
On Sundays, the restaurant offers the new 'Sexy Brunch' menu, served to the sounds of resident and guest DJs, creating a unique brunch party in Mayfair. Chef Director Bjoern Weissgerber has created eclectic dishes, inspired by the seas of Asia, featuring an array of brunch specialties, ranging from lighter options such as salads, snacks and sushi to 'grande plates'.
We started our brunch with one of the 'Haute Couture Cocktails' called F'row (front row), which was served on its own lit-up catwalk (how cool is that?!). It was delicious and refreshing. Another cocktail we could not resist to try was the Sexy Fish Bloody Mary, with Absolut Elyx, house spice mix, tomato and smoked lemon foam, served up in a gaping copper fish (perfect for an Instagram pic, haha). While enjoying cocktails, an attentive waiter brought a complimentary dish with watermelon and feta (a pleasant start to our feast).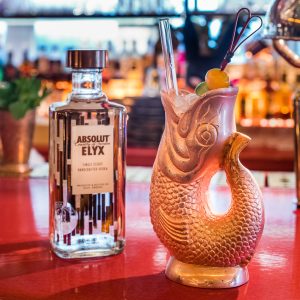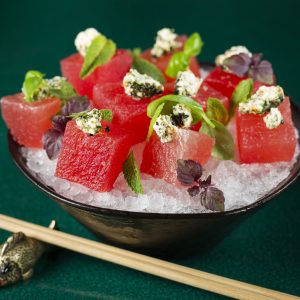 The variety within the menu was impressive and allowed the restaurant to showcase its excellent signature dishes and bring something new and exciting to London's brunch scene, while maintaining their culinary values. After studying the extensive menu, we decided to try a few different dishes: Sashimi Salad with wasabi and ginger dressing, which was refreshing and light; Sea Bream and Carabinero Ceviche with miso and yuzu, with perfect mix of spiciness and sourness. Other starter highlights included the Chunky Tuna Tartare with barley miso and ginger, and Super Greens Salad, made with 17 super foods, including kale, spinach, seaweed, broccoli, quinoa and others. One of our favourite dishes was the Wagyu Gyoza, with fois gras and black truffle (the mixture of flavours was just perfect).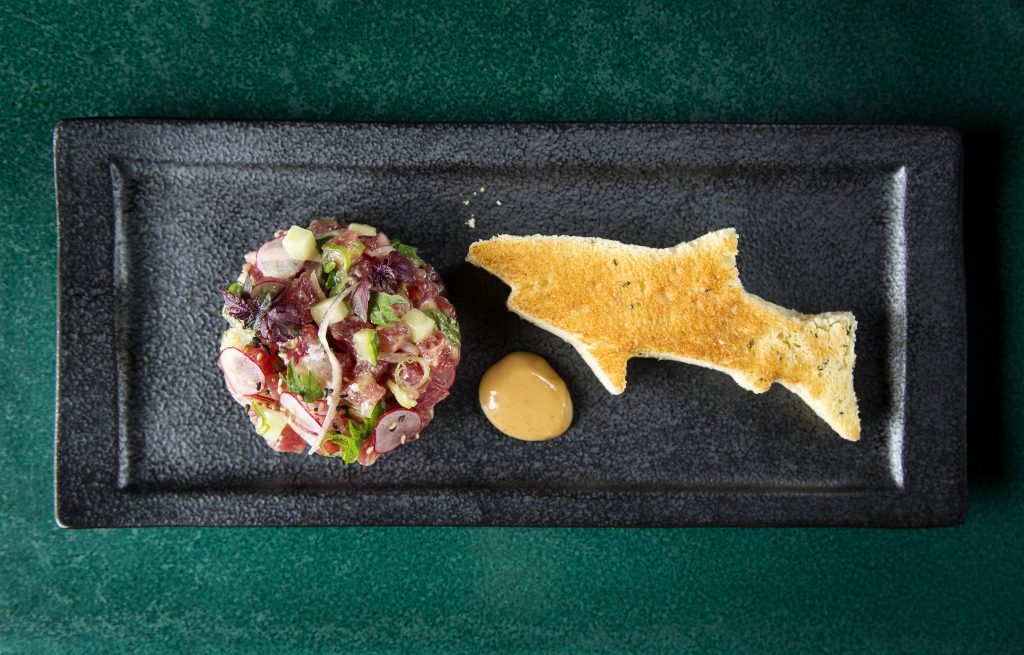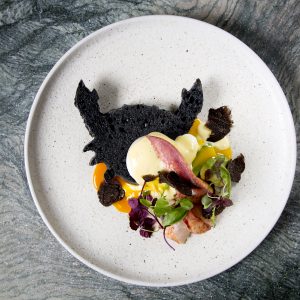 What was even more exciting is that the brunch classics were also given a sexy twist. We loved the presentation and the taste of the Sexy Benedict with poached eggs served on black charcoal muffin in the shape of a crab, and a generous amount of lobster and truffle covered by yuzu hollandaise. Another creative dish we liked was the Asparagus Soldiers, with bacon and soft-boiled egg (yum!).

For those with a sweet tooth (like us), green tea waffles with Japanese black sugar syrup, blueberry and bacon was the perfect end an enjoyable brunch, full of great music, delicious food and glamorous people. Brunch has just got sexier, thanks to Sexy Fish.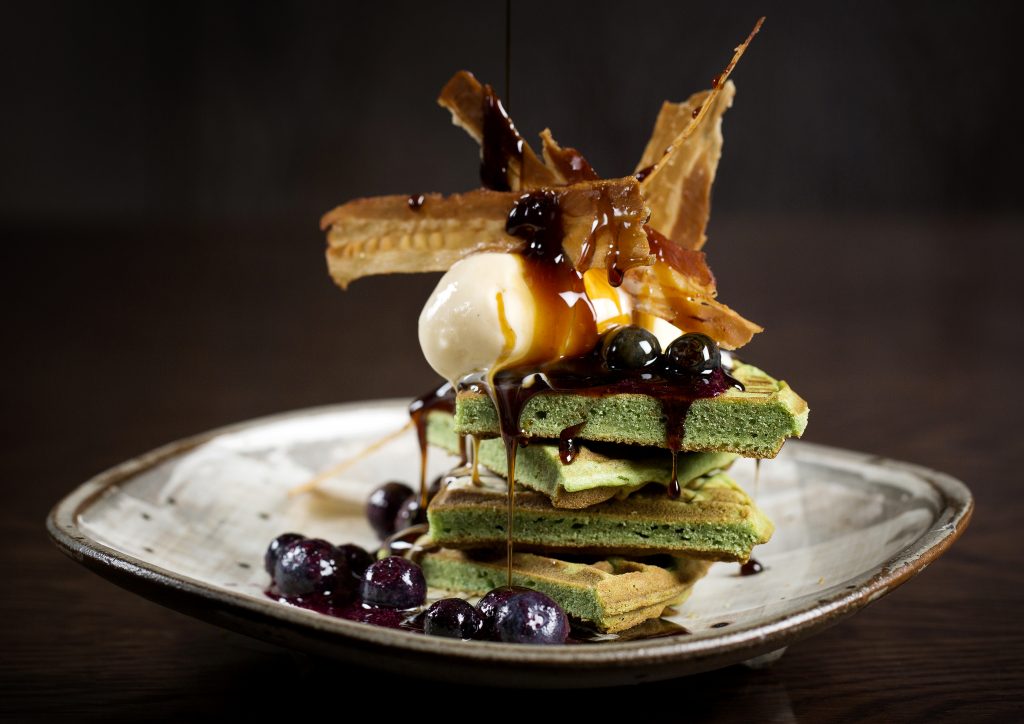 For more information on Sexy Fish and its Sexy Brunch, please check their website www.sexyfish.com or visit them at Berkeley Square House, Berkeley Square W1J 6BR.