Voskhod
A new Alexander Rappoport's restaurant "Voskhod" has been opened in Zaryadye park. Alexander is a famous Russian restaurateur, known for his focus on food quality, creativity and attention to detail. He has been named 'Restaurateur of the Year' by GQ Russia.
When it comes to "Voskhod" restaurant, Rappoport has created a place where one can experience all the various dishes of the former Soviet Union republics. Ukrainian borsch, Belorussian draniki, Armenian chalagach and Uzbek shashlik will take your palate all over the USSR. The restaurant's chef Maxim Tarusin has previously worked in the legendary Yar restaurant at the Sovetsky hotel. He has trained in China, the USA and France and won many prestigious professional competitions and awards.
The Interior Design
The restaurant takes its name after the Soviet space programme in the 1960s. Hence its interior design explores the theme of space in a modern but nostalgic way. The Sundukovy Sisters did a fantastic job in incorporating the conquest of the cosmos alongside the heritage of the Russian art deco. The space theme is present on the floor: the carpet is covered with a pattern resembling Earth's view from outer space. Furniture also emphasises the idea of cosmic futurism: spherical sofas, rounded flowing lines of furniture, handrails and chandeliers. This theme continues on the walls with Soviet futurism paintings by modern artists. Expect small cosmonauts, like miniature Yuri Gagarins (the first man sent into space) on each table. With its rocket sign, retro-futuristic look and architecture worthy of a spaceship, the restaurant is an impressive yet cosy space with a lot of light and air. 
The Cold Starters
From the gastronomic point of view, "Voskhod" is a contemporary take on the diversity of dishes from the USSR. So we decided to explore it to the maximum. To start, we had the Olivier salad – the most famous Russian salad made with potatoes and other vegetables mixed with mayonnaise. Here, instead of traditional Russian ham, the salad contained grouse, beef tongue and crayfish tails, and it was delicious. Plus, we savoured salmon tartar, 'salo' (Ukrainian cured pork fat), cold mujuji (Georgian dish of cold jellied pork) with foie gras, and crayfish satsivi (Georgian walnut sauce). Of course, we had to order some Russian pickled herring with boiled potatoes, red onions and rye bread. If you think that was the end of our lunch, you underestimate the extent of true Russian hospitality. 
The Hot Starters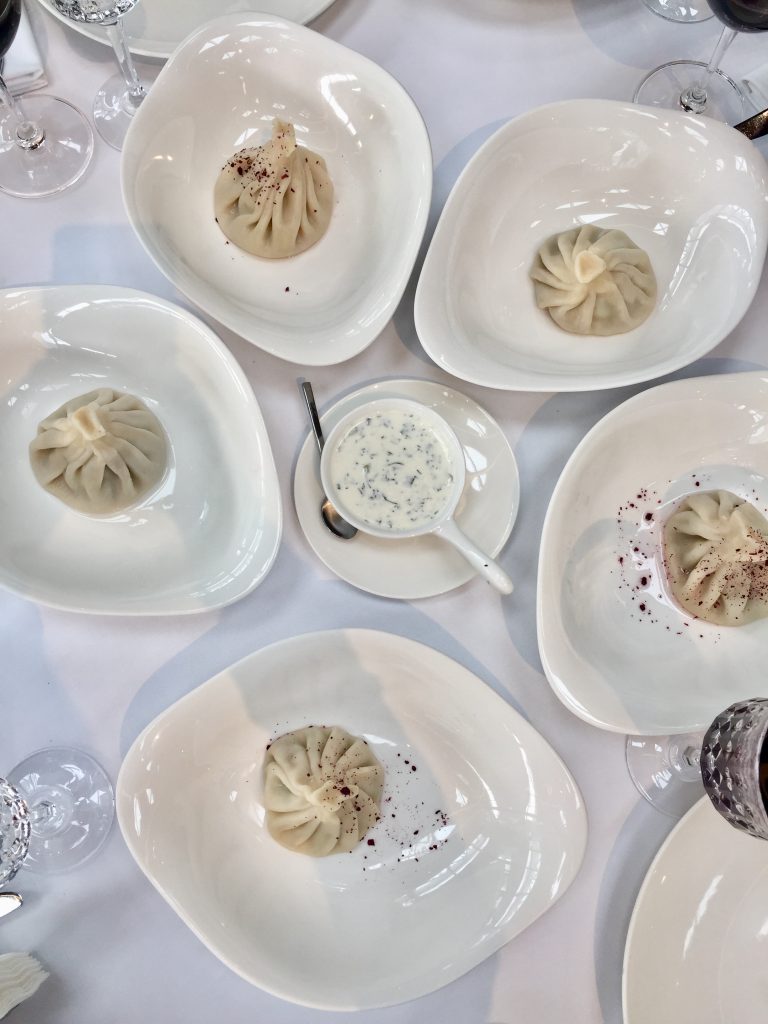 Next was a selection of hot starters, including Georgian khachapuri 'Adzharian style' with truffle and quail eggs and cheburek (deep-fried turnover with meat). Both were mouth-watering and looked as yummy as they tasted. What's interesting is that Soviet cuisine is big on soups. From Ukha (fish soup) and Rassolnik (pickled cucumbers and pearl barley soup) to Chuchvara (Uzbek soup with dumplings), there is so much variety and flavour. Of course, we had to try the well-known Poltava borsch. This is a traditional Ukrainian beetroot soup, here made with goose and soaked apples, instead of beef. Then came the famous Georgian dumplings called khinkali, which are similar to the Chinese Xiao Long Bao, but bigger. Ours came with sturgeon (very delicate in taste) and marbled beef (just perfect!). 
The Mains
Yes, we were already full by the time the mains came, but we had to try them! First up was Uzbek plov – the Fergana pilaf version included lamb, baked garlic and carrots. Think of lamb Biryani but with different spices and some carrots! Another Uzbek dish we tried was shashlik. This is the central Asian nation's version of shish kebab, consisting of chicken and veal cubes and lamb chops. The meats were mouth-watering and full of flavour. We also had a try of the Lithuanian baked goose with lingonberries and apples, which was just exquisite. While eating all this amazing food, we enjoyed the panoramic view through the large windows over the Zaryadye Park and the Kremlin. 
The Desserts
Before dessert, we went for a short walk in the Zaryadye Park, which recently opened right next to the Red Square. This urban park showcases the biodiversity of Russia by creating four zones – tundra, steppe, forest and meadows. Plus, there is an auditorium for outdoor concerts, a media centre and a massive food court. Back at the restaurant, we were spoilt by an amazing selection of Soviet-inspired desserts. We tried the famous "Lakomka", tube-shaped ice-cream covered in milk chocolate popular in Russia since the 1970s, which was delicious. My favourite was "Bird's milk", a classic Russian cake made of mousse-like creamy base, vanilla sponge and a thin velvety layer of chocolate. I also liked the restaurant's take on the famous "Pavlova" dessert served with fresh seasonal berries and meringue. Overall, we totally enjoyed our Voskhod experience, from interior to food, and would definitely recommend it to Moscow visitors. 
Beluga
Introduction
Beluga is a new restaurant specialising in Russian delicacies and with a caviar brasserie in Moscow. It is located in the famous Hotel National, set at the very heart of Moscow's historical, cultural and business centre. Part of the Marriott's luxury collection of hotels, it has welcomed some well-known faces like Bill Clinton, Jacques Chirac, Kofi Annan, Sean Penn and Madonna.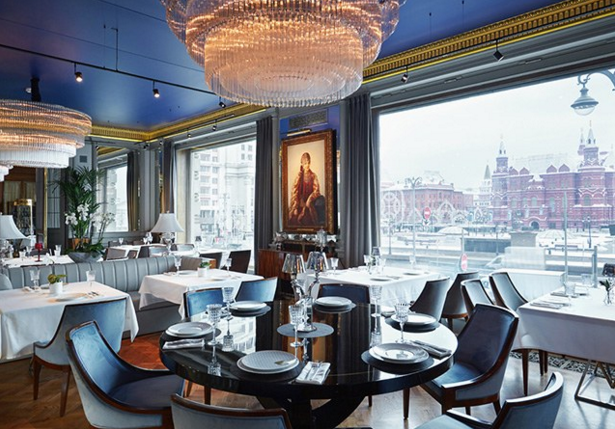 The interior design is beautiful, classy and the place boasts beautiful views of the Kremlin. The interior designer, Anastasia Panibratova, came up with a bar counter in the shape of a giant crystal caviar jar, which is just stunning. Plus, she added hanging chandeliers made of Bohemian crystal to the ceiling of the evening sky, and a panel with the image of Russian beauties in kokoshniks (Russian women's hats) making a selfie made by the art group "Recycle" on a huge mirror in the main hall. 
The Restaurant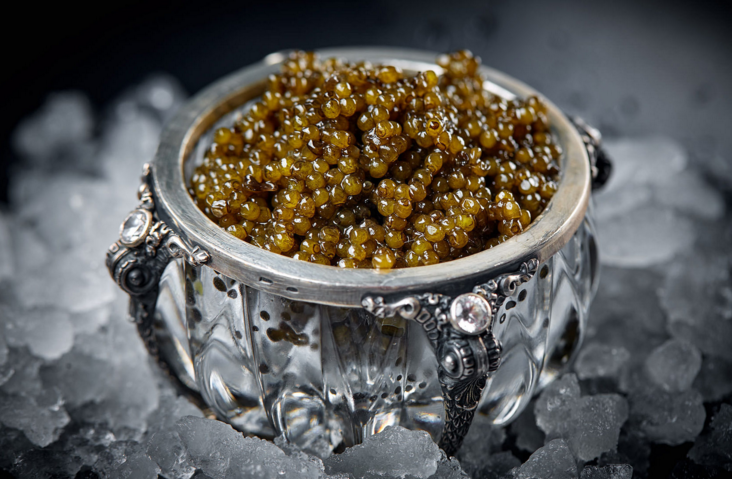 The restaurant fits well with the luxury standard of the hotel, with its extensive caviar menu and an impressive champagne list. In addition to the two dozen types of caviar, including Beluga (hence the name), Ossetra, Sevruga and Sterlet, the place also boasts a large vodka list. However, Russia is famous not just for its caviar and vodka! It produced a wide range of uniquely farmed and wild-caught products, from sea urchins and large oysters, to marble beef. This makes the Beluga's cuisine a harmonious combination of the latest trends and timeless national traditions, innovative techniques and the most unexpected chef's recipes.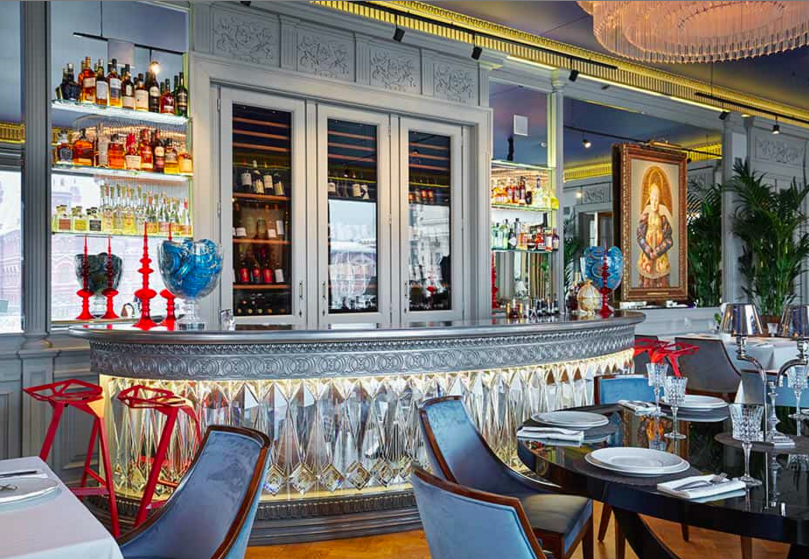 The food is created by chef Anton Kovalkov, who has previously worked in Michelin-star restaurants in London, New York and Chicago. Anton's style can be described as modern Russian cuisine based on seasonal and traditional products with pan-Asian inspiration.
The Starters
The restaurant food menu is extensive and has a wide mix of fish and meat dishes to test anyone's taste buds. Our food journey at Beluga started with muksun sugudai (type of whitefish widespread in the Siberian Arctic waters) with potato stones. The fish was soft and melted in our mouth, so we could not wait to try the next starter. It was marbled beef tartare with black caviar and smoked cheese mousse, which was outstanding. Next was the Olivier salad with simmered sturgeon, baked vegetables and herbal Mayonnaise – definitely a new take on a Russian favourite. I was impressed with beautifully-presented sea urchin with osetra caviar and bone marrow mousse – my favourite starter for sure!
The Mains
When it came to the mains, I really enjoyed the chef's modern take on traditional Borsch. Here, it was made with duck and black garlic and served with "pampushka" (garlic puff). What followed next was something I had not tried before – hemp flour dumplings ("pelmeni") with beef ribs and chanterelle mushrooms. That was a creative take on the usual pork dumplings all Russians love so much! We also tried "vareniki", another type of dumpling served in a consomme of porcini mushrooms and thyme, which was mouth-watering. A beautifully-presented boiled sturgeon was brought to us after, served with young potatoes in a spicy fish broth. The dinner concluded with the honey cake served with ginger ice-cream – which was a real treat!
Bargeman's Breakfast
If you come here for breakfast with friends or business partners, I would recommend getting the famous "Bargeman's Breakfast". What you get is 1kg of black "Osetra" caviar, paired with Beluga Noble vodka or Veuve Clicquot Cuvee Saint-Petersburg champagne. It is accompanied with quail eggs, boiled potatoes, open pies "rasstegai", "oladi" (small pancakes), pickled cucumbers, and marinated porcini mushrooms. Of course, you will also have a chance to try the traditional Russian "brown" bread and potato noodles with creamy Stracciatella.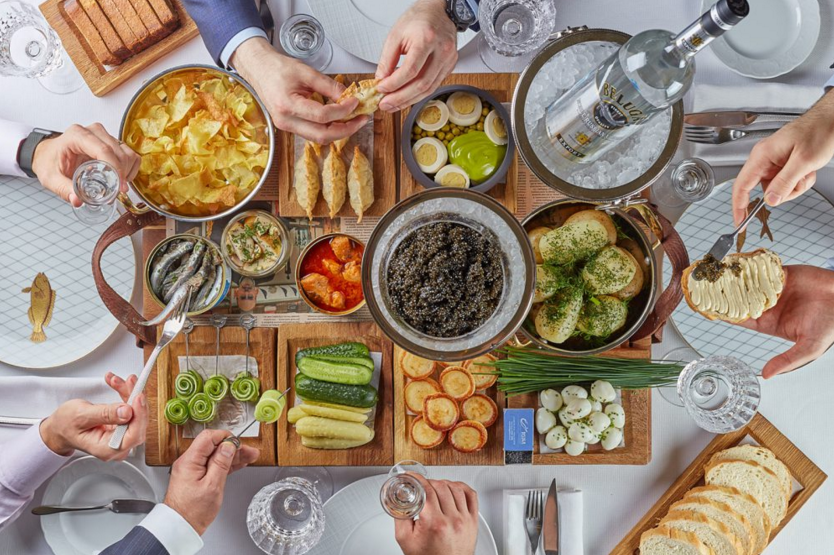 Whatever the occasion, Beluga offers a fantastic selection of food, beautiful decor and impeccable service right in the heart of Moscow. What's not to love?!
Grand Cafe Dr. Zhivago
Dr. Zhivago, a recently opened restaurant just a block from the Kremlin, carries the name of the legendary novel. The place proves that Russian cuisine can be both modern and classic. Since the opening, Dr. Zhivago became extremely popular not only with tourists but also with locals. Where would one enjoy the cultural experience of Russia better than sitting at the window with a splendid view of the Kremlin, eating Russian food? The answer is – at the Grand Cafe Dr. Zhivago. The restaurant is a perfect place for a business lunch or a romantic date, and helps you to impress your guests, without being over the top. Plus, the place is open 24-hours a day, 7 days a week!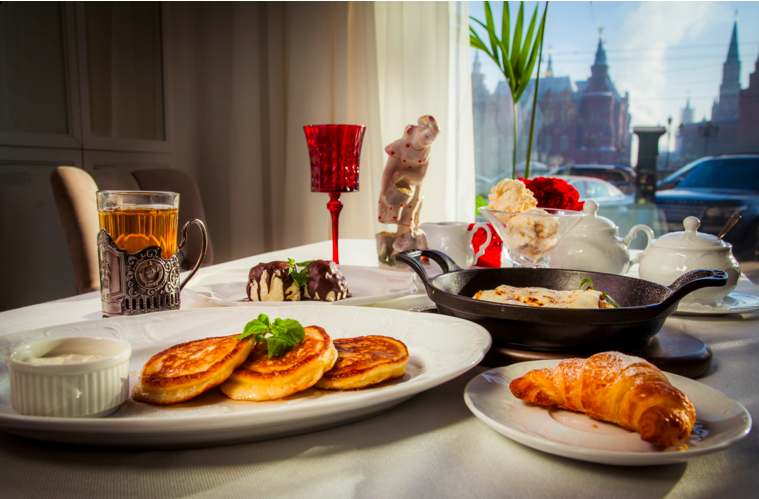 The Interior
The snowy white hall of the restaurant welcomes guests with the paintings of the most prominent Soviet artists such as Malevich and Petrov-Vodkin, and the legendary Ruby Star crowns the gold ceiling. I loved the interior of the place, with the art pieces organically woven into modern interior, mixed with Soviet details. I fell in love with beautiful chandeliers and super cool sculptures of Soviet "pioneers". The restaurant looks modern and stylish, yet you feel that you are at the heart of Russia.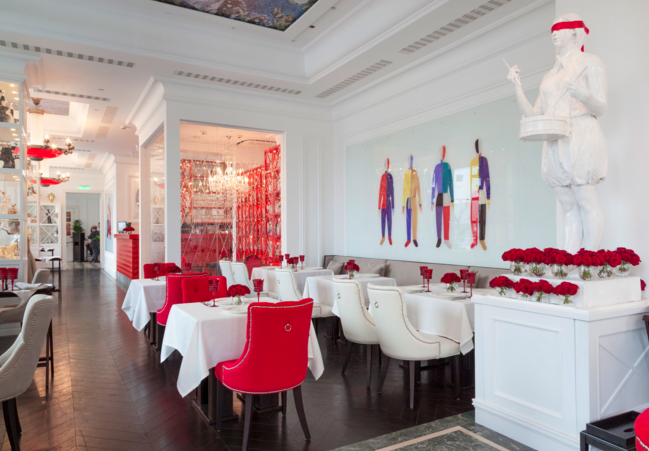 The Food
The food at the Dr. Zhivago mixes traditional recipes with modern gastronomic trends and seasonal ingredients. When reviewing the menu, you can sense the breath of luxury and depth of Russia food history. You'll experience a real adventure with these gastronomic references to the different stages of Russian history. It is a good idea to start with traditional Russian pickles and marinades, like pickled cabbage, mushrooms and cherry tomatoes. Don't forget to have a shot of vodka while savouring these! Russia is a soup-loving country, so having a heart-warming broth is a must. I went for a delicious "ukha", a fish soup made with 5 northern types of fish with rooster broth. My friend went for traditional meat solyanka, a hearty, thick soup with salty cured meats, sausages, olives, capers, pickles and cabbage. Russia is famous for its desserts, so always make space for it. We went for a traditional "Napoleon" cake and honey cake with prunes, and both were a pure delight.