Bonhams the privately owned British fine art auction house, recently collaborated with Nigerian oil heiresses Florence 'DJ Cuppy' and her sister fashion blogger Temi 'JTO' Otedola for their recent 'Africa Now' auction. The auction house has been selling African Art for almost twelve years and is continuing to innovate ways to reach new audiences.
The event which combined three popular creative genres brought individuals from various professional industries such as banking and finance, entertainment, oil & gas and other sectors. It reunited significant personalities from Africa and the diaspora, it reinforced Africa's place within the current Art and culture landscape and confirmed the value of investing in African Art.
"If you are a collector from North America, Europe and even China, you probably do want contemporary African art in your collection" – Giles Peppiatt
The 'AFRICANOW' pre-auction collaboration with the Otedola sisters, Dangote Foundation and Standard Chartered Private Bank was a fusion of music, fashion and art.  The event also vibrantly kicked off London's frieze week with this year focusing highly on African art and artists due to the recent media interest in Contemporary African art. According to Bonhams Director Giles Peppiatt, there has been an increase of interest towards African art,  from Post war Africa to Modern contemporary African art. As a result Bonhams have chosen to hold more sales in 2017.
 "Prior to the 80s there was not much; certainly people were producing tribal art,but not art those in the West would have understand.This sale is of contemporary art and it's a very new market." 
Bonhams Director welcomed Mr and Mrs Otedola  who came to support their daughters, as well as various high profile art lovers from Africa, international guests and celebrities. Also in attendance was guest of honour and Forbes List regular, Billionaire businessman Mr Aliko Dangote, who was acknowledge by Cuppy during her speech for his philanthropic work in Education and Women Empowerment projects through his Dangote Foundation.
Lux Afrique correspondent Emeline Nsingi Nkosi interviewed the host Florence Otedola to find out more about the 'Africa Now' collaboration and the lady behind the brand 'DJ Cuppy';
ENN: How the did the collaboration with Bonhams come about?
We have actually been in talks with Bonhams for a while about this event! They reached out to us and it just seemed like a perfect match as Bonhams wanted young, African creatives to partner up with. My sister Temi and I, love art and anything African! We viewed this opportunity as a great way of appreciating fellow African creatives.
ENN: Which was your favourite piece of art from the exhibition?
My favourite piece was the Peju Alatise's 'Unconscious Struggle'.  Temi and I loved it so much, that we decided to use the visual as the theme of the whole project. It was placed at the centre of the venue and was the talk of the night!
ENN: Fun fact about you?

Well I love Cupcakes – hence why I'm called Cuppy. I have a huge collection of Minnie Mouses too! *laugh*
ENN: What are your favourite Luxury/African designers? 
In terms of design; I make a lot of my pieces in-house. The amazing Ankara dress I wore for the Bonhams event was designed by me and tailored in-house.
ENN: Tell me about your new show…
My new show is called Cuppy Takes Africa – the show follows my journey during my 8 country African tour and gives the viewer a behind the scenes access to what goes on in the life of Cuppy! The show premiered on Fox Life this month, and feedback has been amazing, I'm so proud to tell my story and use it to inspire others!
ENN: What is next for you?
I'm working on a lot of music at the moment so something will be coming out soon – watch out!
More importantly, next for me is focusing and working hard to build my brand and master my sound as an artist. I recently moved to London, and I'm ready to DOMINATE!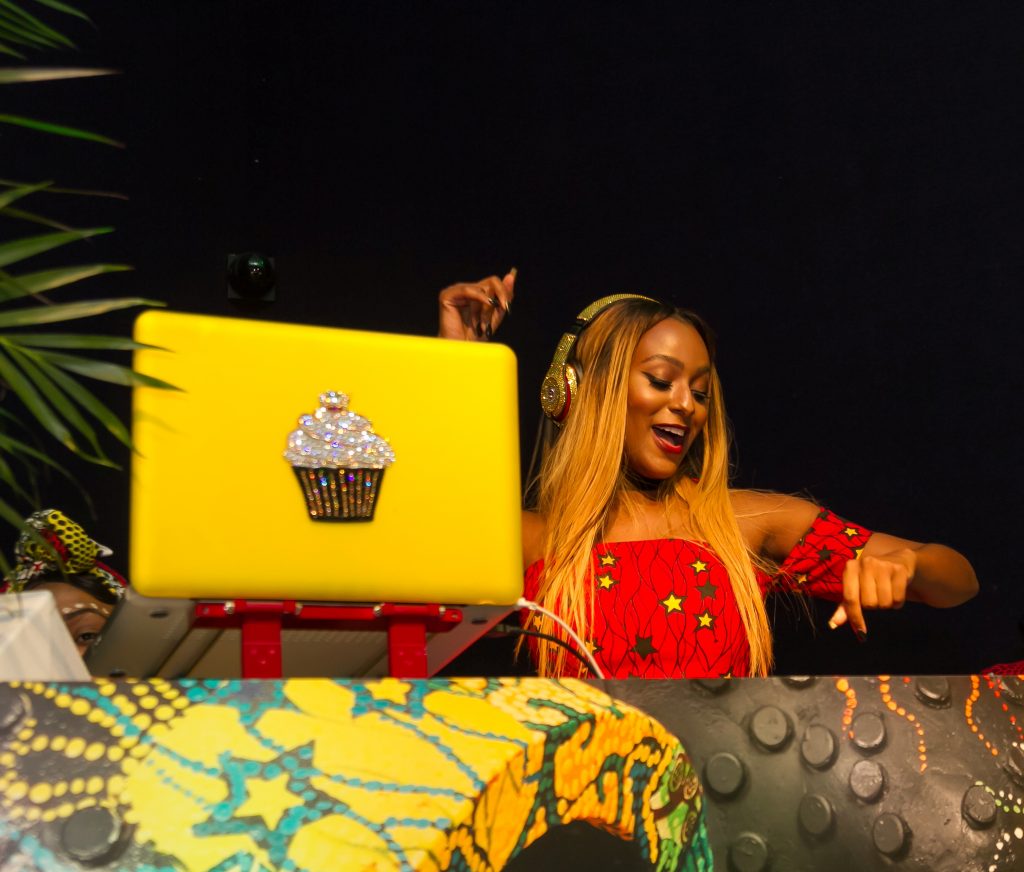 Cuppy Takes Africa airs on FOX Life Wednesdays 20:00 WAT