A Nigerian designer-duo with a brand tagline that reads 'Conceived in Nigeria' is showing how bespoke tailoring and clean fits are not just exclusive to the UK. They are taking Africa and the rest of the world by storm, with their cultural twist on the conventional three-piece suits and tuxes. Here lies the blueprint the Okunoren twins have laid out: how to showcase African authenticity to the rest of the world.
After releasing summer hit 'Mama Cita' with Wizkid in 2016, Tinie Tempah took a visit to the motherland and documents it for his vlog. Episode: "Disturbing Nigeria". We get a quick glimpse of his stay with Wiz, the sandy beaches, street food chop bars and love from the area boys.
Most importantly, Tinie's cameraman scopes over a peculiar white decadent building. It's not exactly a house, but very quaint…like a Savile row boutique. Low candelabras and chandeliers hang from the ceiling, along with a stuffed deer. The place is lavished with antique furniture like a British private members club…situated right in the middle of swelteringly tropical Ikoyi, Lagos. Unusual, nevertheless intriguing.
Tinie was actually paying a visit to the flagship store of the renowned in-house tailors Okunoren. The décor begins to make much more sense when the clothing comes into shot. On display are conservative double-breasted, wide-lapelled, three-piece suits with immaculate bow ties that you'd expect to see on Prince Charles. A pricy mouthful.
The brand is owned by a tailoring duo made up of two brothers: Kehinde and Taiwo Okunoren of Nigeria. The brothers cater to Nigeria's top clientele: royalty and dignitaries, stars and fashionista's.
Humble Beginnings
The brand's journey to fashion prominence begins in 2002. True to the inbuilt Nigerian grind, they insist that they began selling items only on demand from their parents' boys quarters – a matchbox size extension made for the gatekeeper. Then came an entrepreneurial turning point. Discontent with the fact that they were selling foreign ready-to-wear garments, the duo took the initiative to invest in customers and the Nigerian market by creating custom-made designs.
Acclaimed for bringing bespoke wear to Nigeria, the Okunoren twins incorporated the slim-fit, minimalistic tailoring of London's Savile Row. But these guys take it up a notch. Flick through their lookbook portfolio over the years, and you'll realise the twins have stayed true to the authenticity of African fabrics and cuts. Their staple? A revolutionary twist to the traditional 'up-and-down', also known as a Buba and Sokoto. It consists of a two-piece ensemble of the same fabric, an elongated kaftan dress shirt with tailored trousers. For years the outfit had been worn in a way was ill-fitting; arguably the more fabric used, the richer you were. Okunoren put an end to that. And voila- what was once worn with traditional sandals is now more commonly being paired with Gucci horsebit loafers. The Okunorens' one-of-a-kind remixes could've fit easily with the inventory at Cos, Massimo Dutti or Harvey Nichols.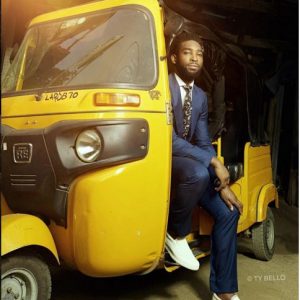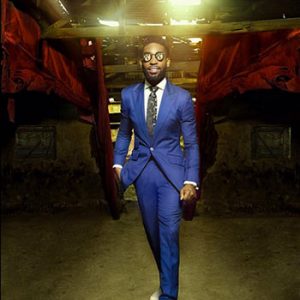 Disturbing Lagos: Tinie Tempah for Okunoren in 2016
For over a decade, the Okunoren twins have since been the taste-makers of the Nigerian menswear market. Since launching their flagship in the prestigious Dolphin Estate on the coast of West Africa in 2013, they've heightened the desire for African buyers to indulge in private consultations. Fashion fine dining, no more fast food. This was during a time Nigeria was yet to find it's unified voice on the global fashion front. They founded a demand for luxury that was Africa's own handiwork. To date, their advocation of the Afro-development movement continues to prove strong. The brothers are also most recently poster-boys of a 'Made-In-Nigeria' campaign, focusing on home-grown African talent and creativity.
Cutting Innovation
The brand's current collection still boasts a cultural mash-up: distinctive African textile intertwined with European fits. One recent item drew inspiration from Scotland's finest Tartan material, to create the finely embroidered African 3-piece Agbada. An Agbada, being oversized and expensive men's attire, was originally exclusive to men with prestige and title.
You could say the brothers have found a way to make it resonate with a wider customer-base. The best way to describe it: Making. Culture. Marketable. Like adorning years of Nigerian richness and tradition onto the backs of today's dandies. Their cover for Complete Fashion Mag says it best. Kehinde is sat in a conservative and light pastel blazer. Taiwo is stood regally over his shoulder in flowing African cloth and beading around his neck. Revert back to May and you'll notice the Okunoren brothers consistently rep this look, paying homage primarily to their Nigerian roots of tribal royalty and pomp.
The current collections attention to detail is what allows them to play with rich textiles like black and gold Brocade, paired with calf-skin. Or adding women's brown sanyan aso-oke material to a men's pea coat sleeve. Things that those outside of Africa wouldn't dare do, but would definitely wear. Their distinction has not gone unnoticed. Okunoren has since expanded to the rest of the continent and the world. To start off 2017, Nigerian headlines showcased their new shawl lapelled tux jacket, made with intricate Ankara Fabric and a royal navy blue finish, made for a special guest at their Flagship. The jackets inner lining was emblazoned: "HM Mohammed VI, Sovereign of Morocco"
With a co-sign from style innovators abroad like Tinie Tempah, it is undeniable they are bringing Africa fashion to the world stage. Okunoren are revolutionising the fashion industry by setting the pace and raising the standard.