Boast your flair with a chandelier
Be it a hotel lobby or a posh mansion, a vintage styled club or a modernized work space, a minimalist salon or an extravagant art gallery, a chandelier can make or break the look of your interior design. There is a specific type of chandelier for every aesthetic setting, and Eichholtz knows which goes best with yours. Based in the Netherlands, this luxury interior design company is now entering the African markets and offers promising innovations for the consumers. Theo Eichholtz, the founder of the company, has travelled widely to gain inspiration for his designs – all the prestigious design locations, the aesthetically unique places and museums that boast architecture which speaks of different eras and different places have been his muses.
"Although we work with a central idea, we always set different, innovative and dynamic goals when we create a new collection",
says the founder. Eichholtz now shares its luxury collections with the world in hopes of adorning deserving spaces in ways that could bring out their beauty.
Eichholtz's collection for 2017 is all about stateliness and subtle sensuousness which speaks for itself. Each piece is unique to itself, boasting clear or crystal glass with a fitting black, gold, or nickel finish, along with deceivingly elaborate structures sui generis. The ranges have been attributed suggestive names befitting the rooms they might adorn.
Chandelier Vittoria
Vittoria is best for grandiose halls and hangs distinctly in five layers with its clear glass shimmering and its nickel finish adding to its luxuriant look. Its name suggests the intricacy of the Victorians, which it stands true to.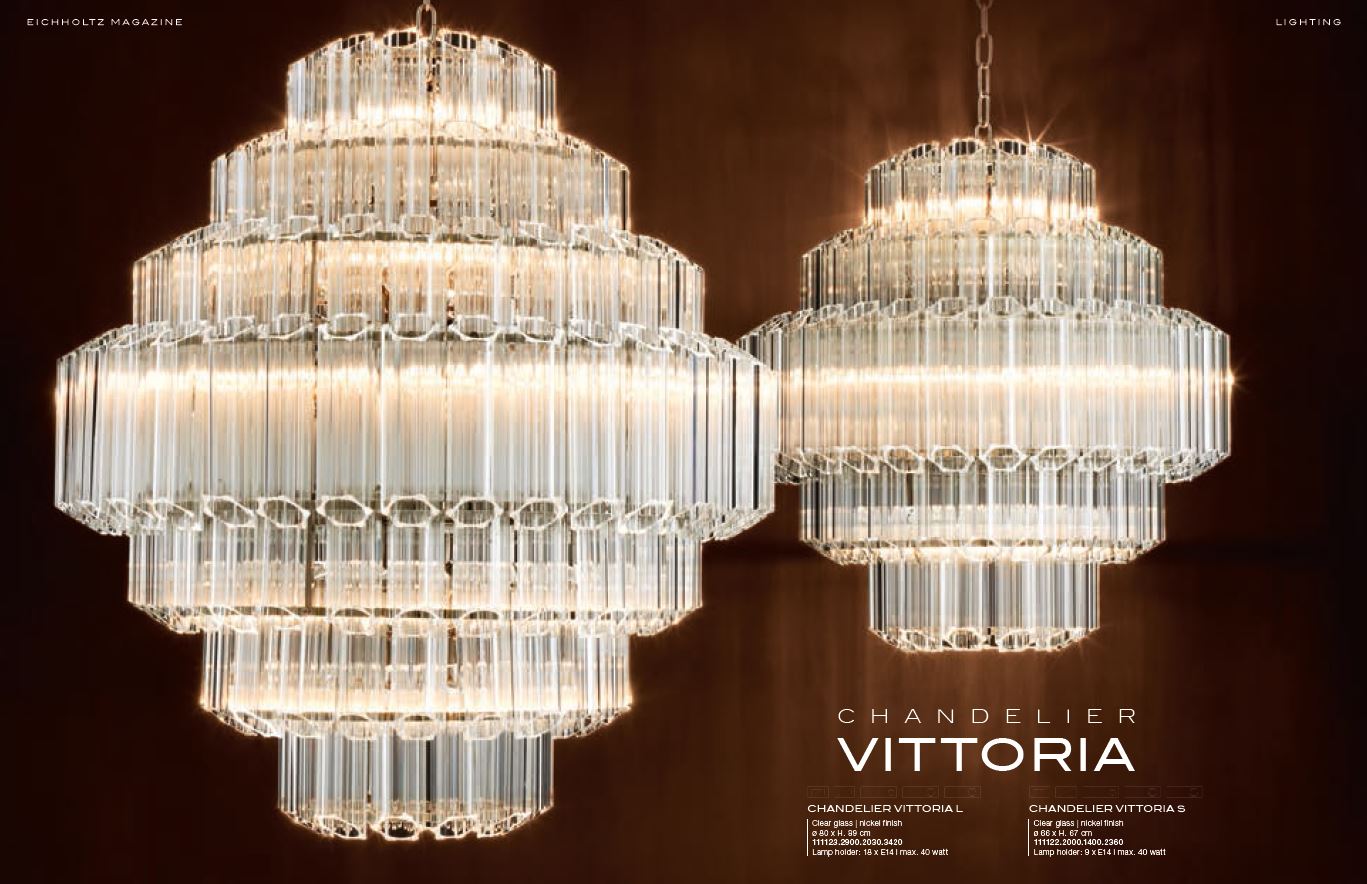 Chandelier Salasco
Contrastingly, Salasco belongs to modern settings vying to showcase individuality. Its clear geometric design and crystal glass gleaming on either gold or nickel finish speak of rebelliousness. The chandelier has branched space for six bulbs and will illuminate any room with an ambience to garner envy.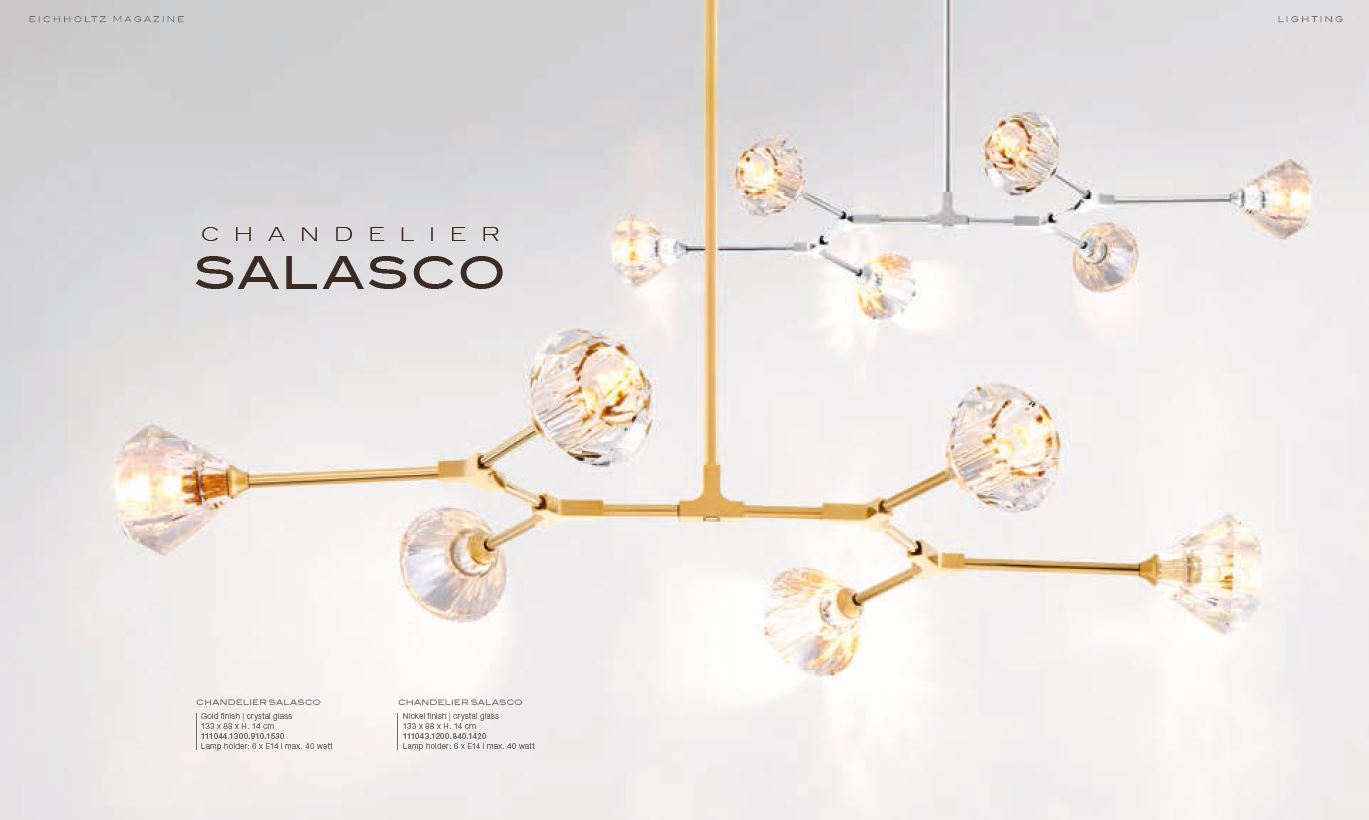 Chandelier Carducci
Next in the collection is the Carducci. This is a very romantic looking piece and holds capacity for dim bulbs. It gives off Heathcliff-vibes, has an alabaster look with crystal glass and a black finish. It seems to be demanding a cosy yet post space, perhaps a café or a top-notch coffee place.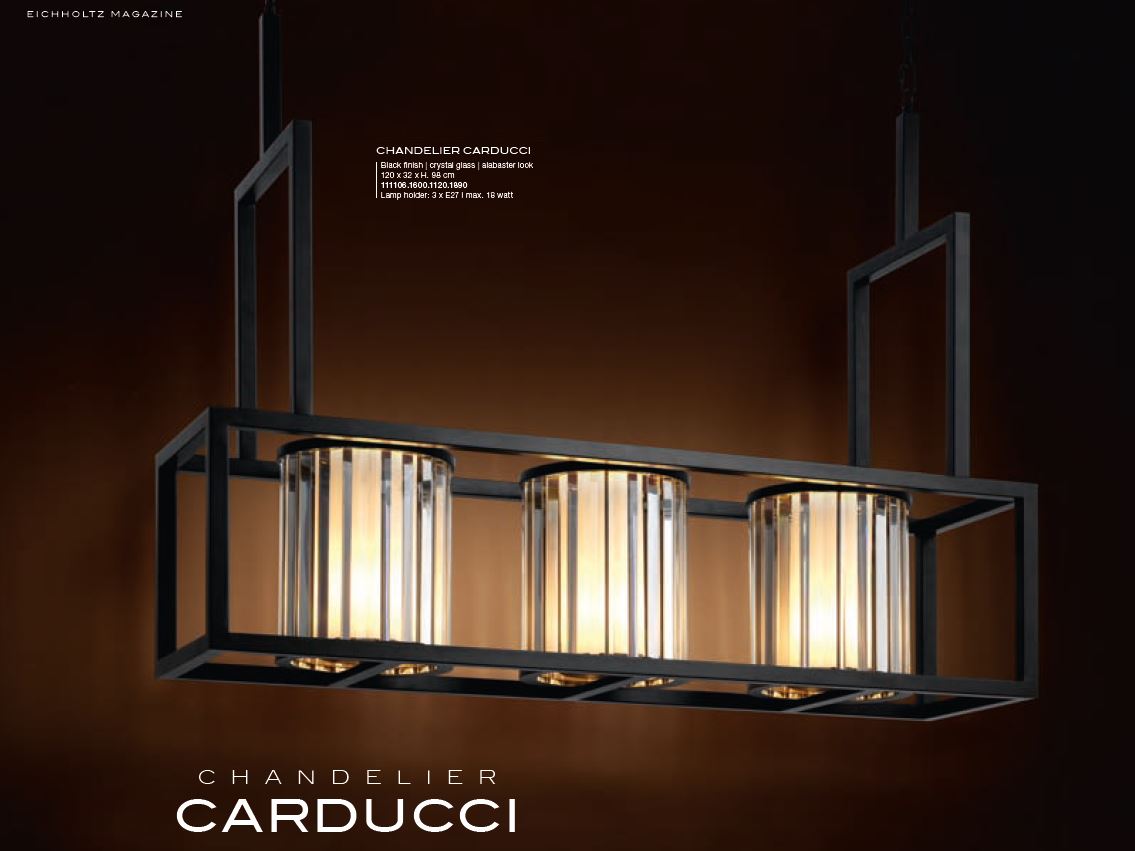 Chandelier Roma
Roma is available in both a gunmetal highlight and a nickel finish. It has an antiquity to its name and its design; clear glass encased in gunmetal or nickel frames, it hangs low and has an industrial yet lantern-ish look. The chandelier has capacity for eight bulbs and can lend trendiness to any room it decorates.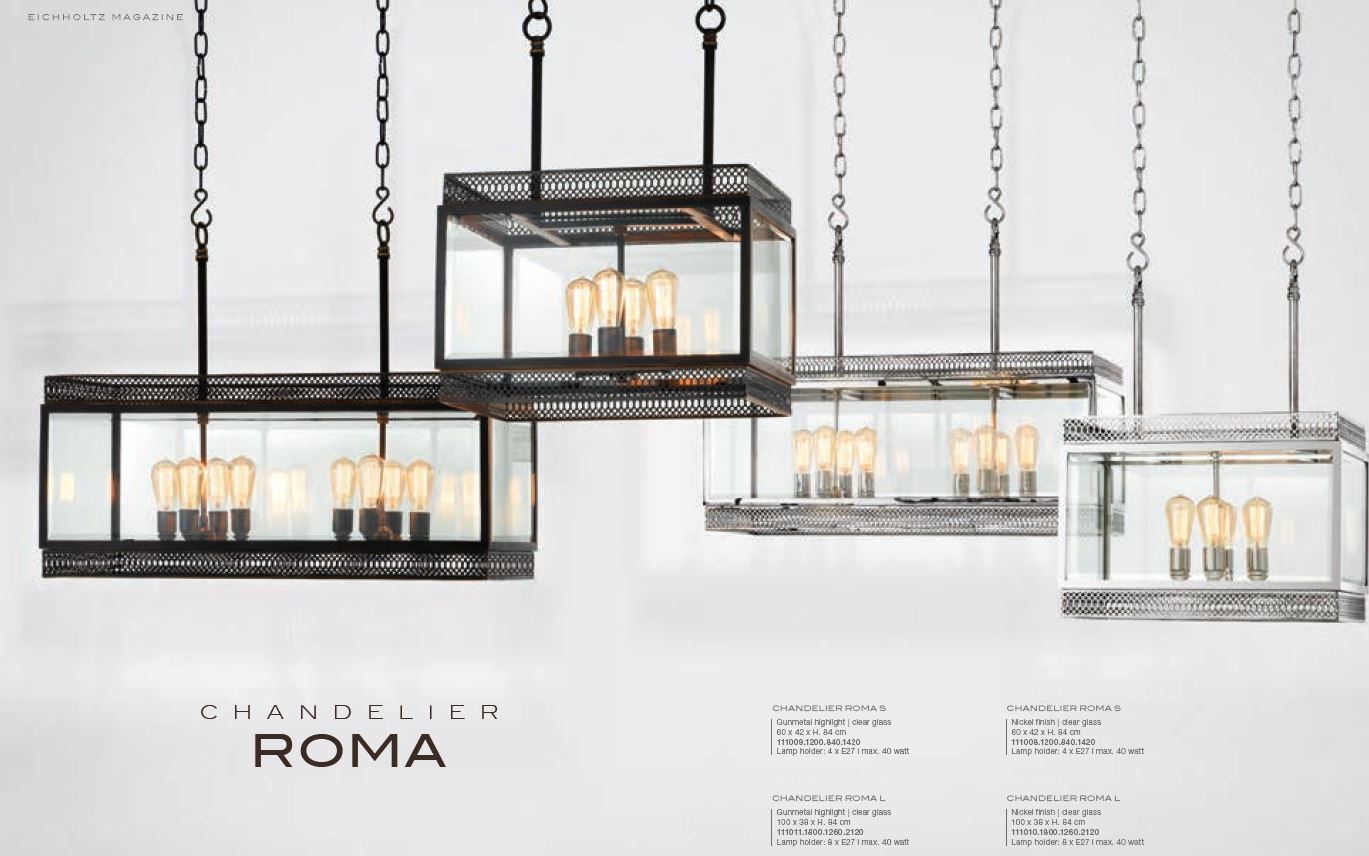 Chandelier Impero
The last in this series is the Impero. This one has a nickel finish and boasts a clear acrylic make. Its beautiful spherical design and spacey vibes make the chandelier perfect for all kinds of spaces, small or big, dark or light, provided that they're ready to deal with the extra splash of grandeur which comes with it.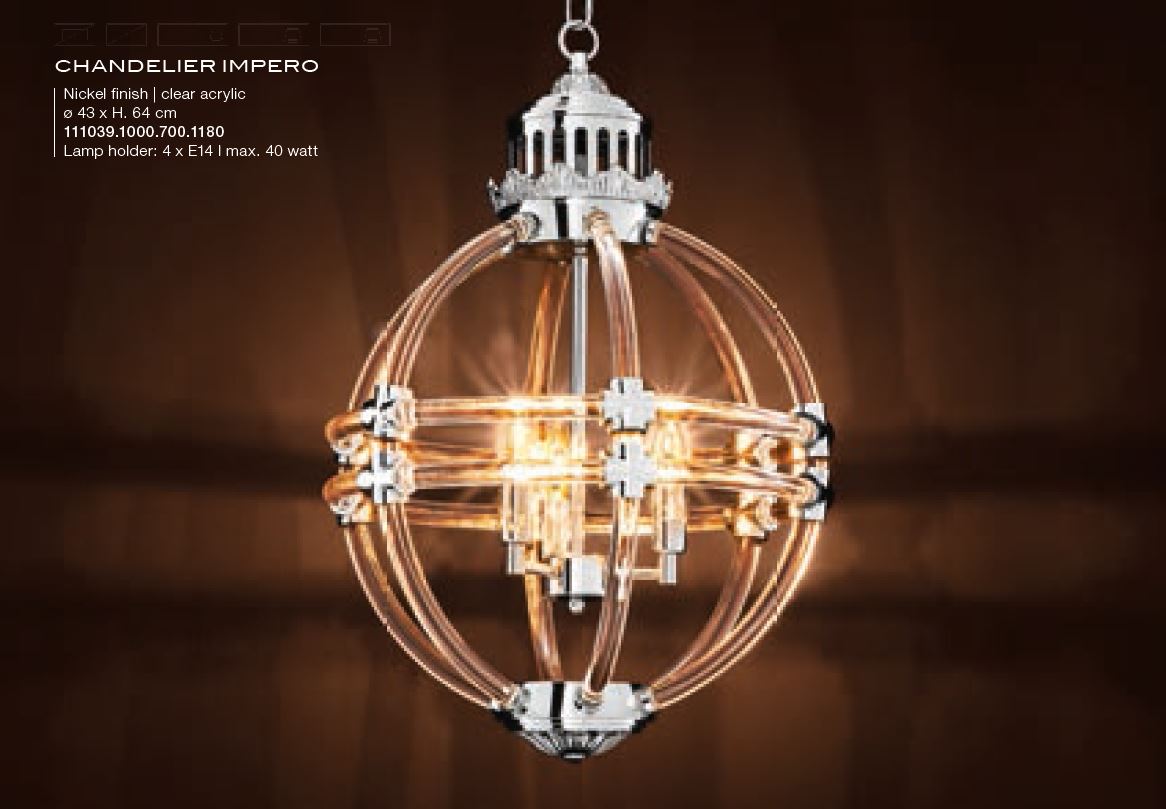 Eichholtz's latest range adds to the company's reputation for uniqueness and inventiveness. The 2017 collection caters to all luxury settings and spaces, incorporating both the vintage and the contemporary aesthetics to present a diverse and opulent appearance that today's world looks for. From their names to their design, the chandeliers uphold Theo Eichhotz's values in art.
To order Eichholtz for delivery to any part of Africa, contact [email protected]